The building prototype of access to overflow pipes of waste water in the Barbaña and Miño, places in different urban locations, periurbanas, rural…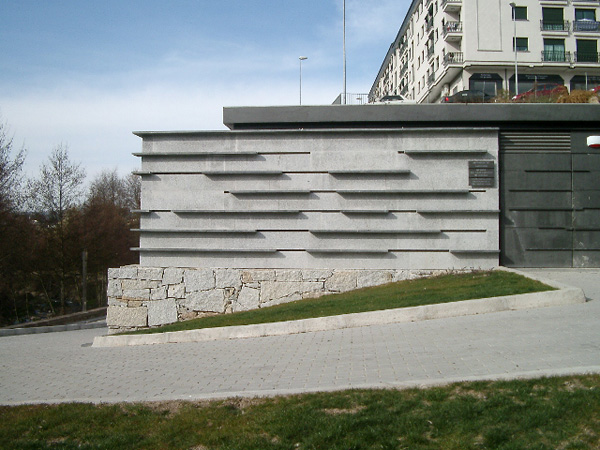 They are buildings in which a surrounding antivandálica looks, antigraffiti, and that in addition dialogue with a both natural and urban environment.
This way, he arranges of two types of piece of stone, a white of egg and other one dark that placed misaligned they prevent the planeidad of front, they contribute hardiness and work as structural element of the building, this piece adapts to the different dimensions of the installation, with double module.
The volume moves to allow the access and the entry of light for cover and for front. This disposition of pieces of slate and granite, with the same strategy, they form banks, rails … and other necessary elements along the margins.
WOrk: Overflow pipes in the Barbaña and Miño rivers
Author: Hermo Iglesias Veiga Arquitectos (Víctor Hermo Sánchez, Juan Iglesias Babío, Iván López Veiga).
Collaborators: Ignacio Sánchez Martínez
Year: 2004-2005
Location: Barbaña river and Miño river, Ourense, Spain
Promoter: Miño-Sil Hydrographic federation
Structure: Iglesias y Veiga Arquitectos
Photography: Iglesias y Veiga Arquitectos
Reconocimiento
Proyecto ganador del 3º Premio en la 4ª edición de los Premios Menhir de Arquitectura para Jóvenes arquitectos 2004.
Búsqueda para satisfacer el conocimiento de la actividad arquitectónica y tangentes que se generan. La idea es crear un espacio para divulgar los diversos proyectos en busca de nueva inspiración y de intercambio.