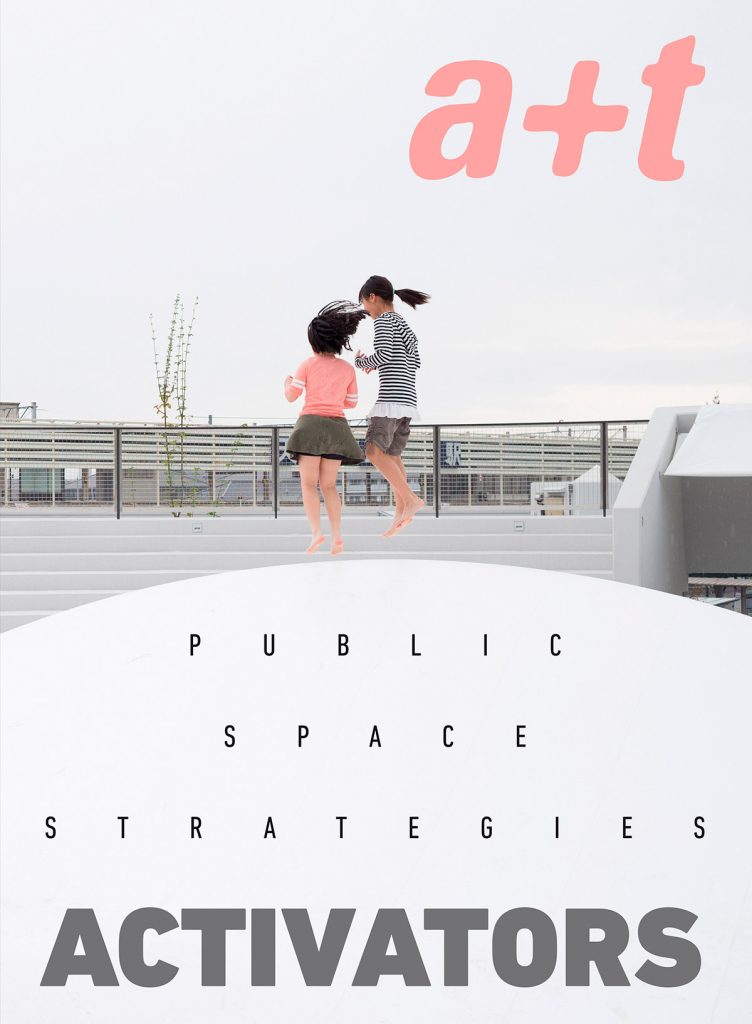 La revista a+t retoma la serie STRATEGY, iniciada en 2010 con el objetivo de resaltar y dar nombre a estrategias y acciones presentes en los proyectos de espacio público.
Este nuevo volumen de la serie, a+t 51, llamado ACTIVATORS, incluye obras de MVRDV, Jaja, Adept, Nendo, Vaumm, Wowhaus y Ola, entre otros.
Se trata de proyectos que agregan nuevas dinámicas al espacio público a través de la incorporación de instalaciones para el ocio, el deporte o el aprendizaje lúdico.
Un índice de 85 acciones, identificadas dentro de los 13 proyectos incluidos en este número, permite analizarlas según:
– Escala de influencia: Contexto, Lugar, Objetos
– Tipo de estrategia: Ambiental, Socioeconómica, Estética.
CONTENIDOS (Inglés/Español)
Strategies & Actions. Aurora Fernández Per
Recreating a Landscape
Gilles Brusset. L'Enfance du Pli. Meyrin (Switzerland)
Collaborating with the Users
NP2F Architects. Sports Area in the Gardens of Saint-Paul. Paris (France)
Recreating a Theme
Nendo. Tenri Station Plaza CoFuFun. Tenri (Japan)
Reusing a Corridor
MVRDV. Seoullo 7017 Skygarden. Seoul (South Korea)
Blurring the Limits
VAUMM Arkitektura. Alaberga Urban Lift. Errenteria (Spain)
Making Interior Landscapes
JAJA Architects. Activity Landscape Harboøre. Harboøre (Denmark)
Appropiating the Roof
ADEPT. Vestre Fjord Park. Aalborg (Denmark)
Applying a Generator Matrix
OLA Estudio. Lagoon pools at Monte do Gozo. Santiago de Compostela (Spain)
Hybriding Natural and Man-Made Processes
Ooze, Marjetica Potrc. Natural Bathing Pond and its Landscape. London (United Kingdom)
Learning by Doing
Students from Bartlett School of Architecture led by Jan Kattein and Julia King. The King's Cross Skip Garden. London (United Kingdom)
Invigorating the Suburbs
Rozana Montiel, Alin V. Wallach. Cancha. Lagos de Puente Moreno, Veracruz (Mexico)
Removing Barriers
Rozana Montiel, Alin V. Wallach. Common-Unity. San Pablo Xalpa, Azcapotzalco, Mexico City (Mexico)
Learning by Playing
Wowhaus Architecture and Urban Design. Urban Farm at VDNKh. Moscow (Russia)
Búsqueda para satisfacer el conocimiento de la actividad arquitectónica y tangentes que se generan. La idea es crear un espacio para divulgar los diversos proyectos en busca de nueva inspiración y de intercambio.