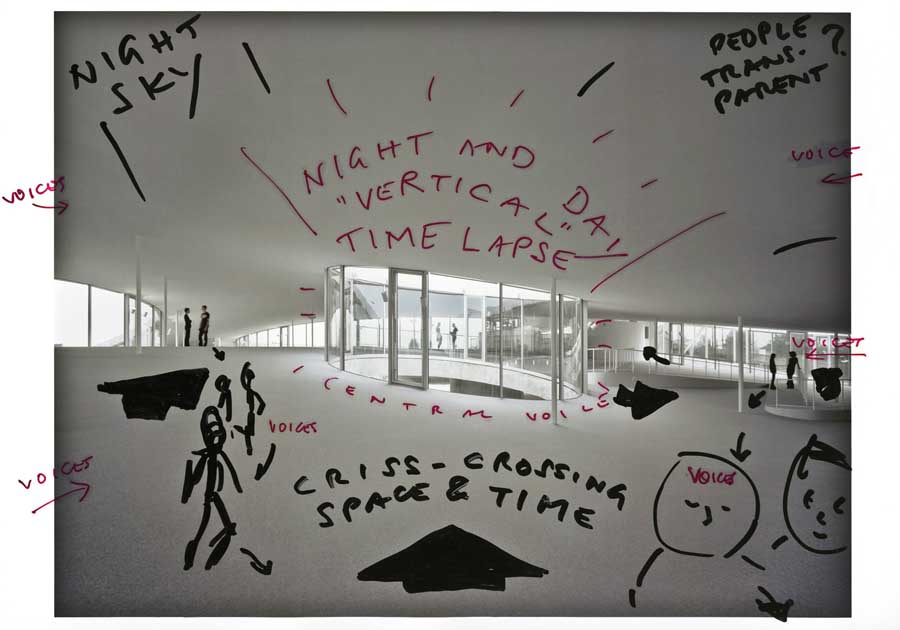 Wim Wenders is the director who in the eighties us fascinated to the architects thanks to movies as The sky on Berlin and Paris, Texas, but though I do not know very well which have been the reasons, seems to have fallen down in misfortune in the last years, in spite of notable movies, as The end of the violence, The Million Dollar Hotel, Earth of abundance and Calling on the verge of the sky, that diseccionan and they analyze the American landscape, since few filmmakers have done it till now.
Precisely, for an article that I am writing on the relation of the movies directed by Wenders with the urban American landscape, I have found in his official web page information on his last work, a documentary of twenty minutes of duration, in three dimensions, which one will exhibit in the Arsenale of Venice, until ends of November, included inside 12 Mostra Internazionale di Architettura. This movie has rolled it in the building of the Rolex Learning Center, projected by the architects Kazuyo Sejima and Ryue Nishizawa, or SANAA – certainly certain, his web page is incredibly succinct-, being the first mentioned one the director of the Biennial show of this year. Of this building the filmmaker has said that «it is more landscape than building».
The image that he accompanies on this comment is extracted of Wenders's official web page before mentioned and they are drawings of the own director, in this page also there is a few Donata Wenders's marvellous photographies and the text written by Wim, which I have copied later:
"If Buildings Could Talk…

… some of them would sound like Shakespeare.

Others would speak like the Financial Times,

yet others would praise God, or Allah.

Some would just whisper,

some would loudly sing their own praises,

while others would modestly mumble a few words

and really have nothing to say.

Some are plain dead and don't speak anymore…

Buildings are like people, in fact.

Old and young, male and female,

ugly and beautiful, fat and skinny,

ambitious and lazy, rich and poor,

clinging to the past

or reaching out to the future.

Don't get me wrong: this is not a metaphor.

Buildings DO speak to us!

They have messages. Of course.

Some really WANT a constant dialogue with us.

Some rather listen carefully first.

And you have probably noticed:

Some of them like us a lot, some less

and some not at all.

Buildings, like people, are subject to time

and exist in a three-dimensional world.

That's why our film is in 3D.

It's an invitation to wander around,

to experience and to listen, for once.

The building you will encounter

is a particularly gentle and friendly one,

made for learning, reading and communicating.

Its hills and valleys (yes, they exist in there)

are eager to welcome you,

to help, to be of service,

and to be, in the best sense of the word,

a meeting place."
Jorge Gorostiza, architect. Author of the blog Arquitectura+Cine+Ciudad
Santa Cruz de Tenerife, september 2010
Doctor arquitecto, proyecta y construye edificios y desarrolla trabajos de urbanismo. Desde 1990, publica numerosos artículos sobre cine y arquitectura en medios de su localidad, revistas como Nosferatu, Nickleodeon, Academia, Lateral, Cahiers du Cinema… y en varios volúmenes colectivos. Entre el 2000 y el 2005 dirige la Filmoteca Canaria. Imparte conferencias sobre arquitectura y cine en instituciones como el CAAM en Gran Canaria, la UIMP, el CENDEAC en Murcia, INCUNA en Gijón, Fundación Telefónica, la ETS de Arquitectura y el CCCB de Barcelona, las ETS de Arquitectura de La Coruña, Sevilla, Valencia y SEU madrileña, La Ciudad de la Luz en Alicante, la UNED en Pamplona, en varios colegios de arquitectos, así como en las universidades del País Vasco, Gerona, Valladolid, Málaga, Granada, SEK en Segovia y CEES de Madrid. Jurado en varios festivales cinematográficos, como los de Alcalá de Henares (2001), San Sebastián (2002), Sitges (2003), Las Palmas (2005) y Documentamadrid (2005), y comisario de las exposiciones Constructores de quimeras. (Centro Conde Duque, Madrid, 1999) y La arquitectura de los sueños (Capilla del Oidor, Alcalá de Henares, 2001).
He publicado bastantes libros y muchos artículos, he impartido conferencias, he sido comisario de exposiciones y jurado en muchísmos festivales. Si quieren saber más no duden en consultar mi blog ARQUITECTURA + CINE + CIUDAD.