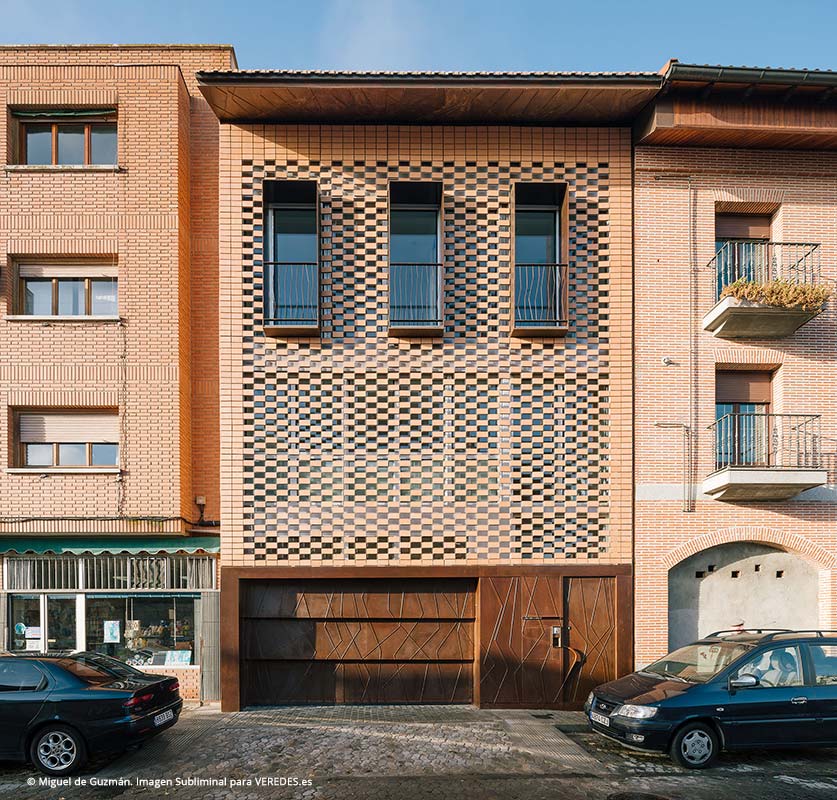 The project solves a double challenge:
1. Adaptting a sustainable and technological architecture to the normative corset and to the idiosyncrasy typical of the urban heterogeneous centers.
2. Demonstratting that the sustainable and technological architecture must not be scolded by the architectural quality (tired of seeing passive houses esperpénticas showed as models of architecture).
For it three units have been projected superposed (the Technological House, the Sustainable House and the Popular House):
The Technological House has a slender structure formed by thin metallic props (HEB 100) and a thin slab of concrete (e=20cm) that give place to a diaphanous, transparent and luminous housing. His surrounding one is glazed in his exterior faces with breastworks of panels composite in aluminium anodized in his color. The interior coatings are panelados and modulated. The TECHNOLOGICAL HOUSE possesses a system of home automated central control that integrates air conditioning, lighting, solar protection, detection, accesses, safety, CCTV and telecommunications.
The Sustainable House possesses air conditioning by means of geothermics for forged termoactivos, a system inercial that climatiza in the interseasonal periods without energetic contribution. The SUSTAINABLE HOUSE has a controller of powers who reduces substantially the coefficient of simultaneity, reducing this way the costs of contracting of power. A network of exterior sensors and interiors of dampness, temperature and luminosity communicated with the system of central control optimize the scenes and minimize significantly the energetic consumption.
The Popular House adapts to a normative urban development encorsetada by means of a ceramic mantle front – cover that Christ gives to the street and is superposed on the technological house. Across this mantle they put three booths out to continue from the balcony "of village" the religious processions that happen ahead from the house.
Work: Sustainable housing between dividing in Torrejón de Ardoz
Location: Torrejón de Ardoz, Madrid, Spain
Architects: Olalquiaga Arquitectos (Alfonso Olalquiaga Bescós, Pablo Olalquiaga Bescós, Rafael Olalquiaga Soriano)
Collaborator: Tadas Navar, Beatriz Fernández, Carmine Zoppo, Jose Manuel Rico, Fernando González.
Facilities: Miguel Ángel Gálvez, Juan Luis Rodríguez
Structures: Stufive: Salvador Villanua and Fernando Álvarez
Rigger: Alberto Palencia
Central home automation: Amado Gordian
Programming: Yves Delaune
Builder: Fernández Molina Obras y Servicios S.A.
Geothermics: Eneres
Control of the air conditioning: Japa Control
Promoter: Private
Photography: Miguel de Guzmán. Imagen Subliminal
+ olalquiagaarquitectos.com
Búsqueda para satisfacer el conocimiento de la actividad arquitectónica y tangentes que se generan. La idea es crear un espacio para divulgar los diversos proyectos en busca de nueva inspiración y de intercambio.