About the work of Juan Domingo Santos
Juan Domingo says of Alvaro Siza that it is capable of seeing that one that is secret, the secret lines of the things, he says it and I think immediately about a clairvoyant. And also I think, in two or three times that I have listened to him to explain some project, in which Juan Domingo's work is like a walk along the places, urban or rural so much to give, at that he is having to be employed. It is a walk in which it seems that Juan walks unconcernedly and I commit an outrage simultaneously, and on the one that constructs his work, in a species of strolling I continue for the place in which the own action to be thereabouts and to look will bring him over to the things that happen, to these secret lines about which before he was speaking, that it is going to gather as if they were fruits of here and there: the memory of a few peoples, the remains of something already constructed, a few trees thrown by the temporary one, or a water course. Things, or chunks of things, which patient is joining and putting in his wayfarer's husk to do of all of them the matter with the one that does his work, allowing simultaneously that the project should leave site in order that the work lights something new, where also it fits the unexpected thing and the strange random.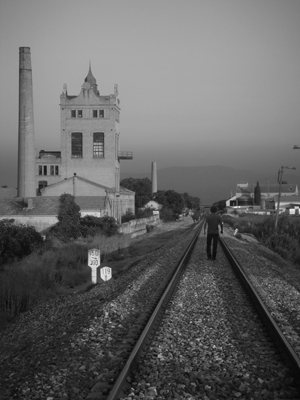 It is a way that seems to me to be very beautiful of doing the things: unconcernedly attentive.
José Valladares, architect
Compostela,  fabruary 2012
Arquitecto por la ETSA Barcelona, 1996 y socio fundador del estudio rvr arquitectos ubicado en Santiago de Compostela.