There is inaugurated The Architecture Gallery, a concept of gallery dedicated to works of architects and artists working I half-close to the architecture. It has as singularity be a solidary gallery: there is assigned 20 % of the benefits of every work sold at projects of social architecture. His another singularity resides in being an itinerant gallery, which travels to different cities to present the works and the social projects.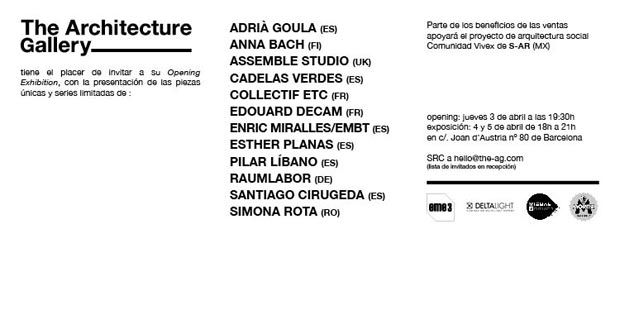 It represents architects, interioristas, designers and artists of different nationalities, who believe pieces in formats that go from photography, illustration and painting to the design of furniture happening for volumetric pieces. The gallery offers original and limited series, in occasions edited by the same one.
In this first collective presentation there exhibit 12 creators, both national and international: Enric Miralles/EMBT (Barcelona), Raumlabor (Berlin), Santiago Cirugeda (Sevilla), Assemble Studio (Londres), Collectif etc (Marsella), Simona Rota (Madrid), Adría Goula (Barcelona), Pilar Líbano (Barcelona), Esther Planas (Londres), Anna Bach (Barcelona), Cadelasverdes (A Coruña) and Edouard Decam (Barcelona – Burdeos).
In this occasion, the sales will support the project Community Vivex *, S-AR's Civil initiatory Association (a collaborative workshop of architecture with base in Monterrey, Mexico) whose aim is to bring over the architecture and his processes of design, planeación and social work to families of scanty resources, isolated communities or to provide from basic infrastructure to institutions that offer social support.
+ info
Búsqueda para satisfacer el conocimiento de la actividad arquitectónica y tangentes que se generan. La idea es crear un espacio para divulgar los diversos proyectos en busca de nueva inspiración y de intercambio.