The extension of Bertamiráns's Culture House contemplates, as principal use, a room of exhibitions, besides other secondary or complementary uses: zone of administration, workshops of activities, stores.
The area descends in uniform earring. This propitiates a double or section " double space ", which allows the vertical displacement of the point of view of the observer.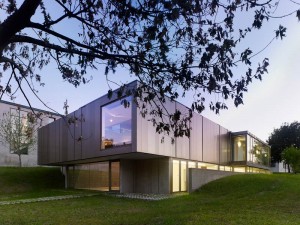 The principal use is precise, but the space, like a corral of comedies, propitiates or insinuates, maybe it generates, other multiple uses or activities. It is, in short, a dynamic space: a generating space of activity.
Work: Exhibitions Room
Location:Horta de Abaixo Square, 2, Local ,Bertamiráns. Ames. A Coruña. Galicia. Spain
Authors: Alfonso Salgado Suárez+Francisco X. Liñares Túñez
Year: 2011
Architect collaborator: Santiago Rey
Direction of the work: Alfonso Salgado+Francisco Liñares+Santiago Rey
Structure: Manuel Liñares
Facilities: Manuel Liñares+Miguel Raposo
Draw: Santiago Rey+Sergio Sánchez
Promoter: Ames Council
Construction company: Generoso Anjeriz, S.L
Photographies: Héctor Santos-Díez | BISimages
Búsqueda para satisfacer el conocimiento de la actividad arquitectónica y tangentes que se generan. La idea es crear un espacio para divulgar los diversos proyectos en busca de nueva inspiración y de intercambio.