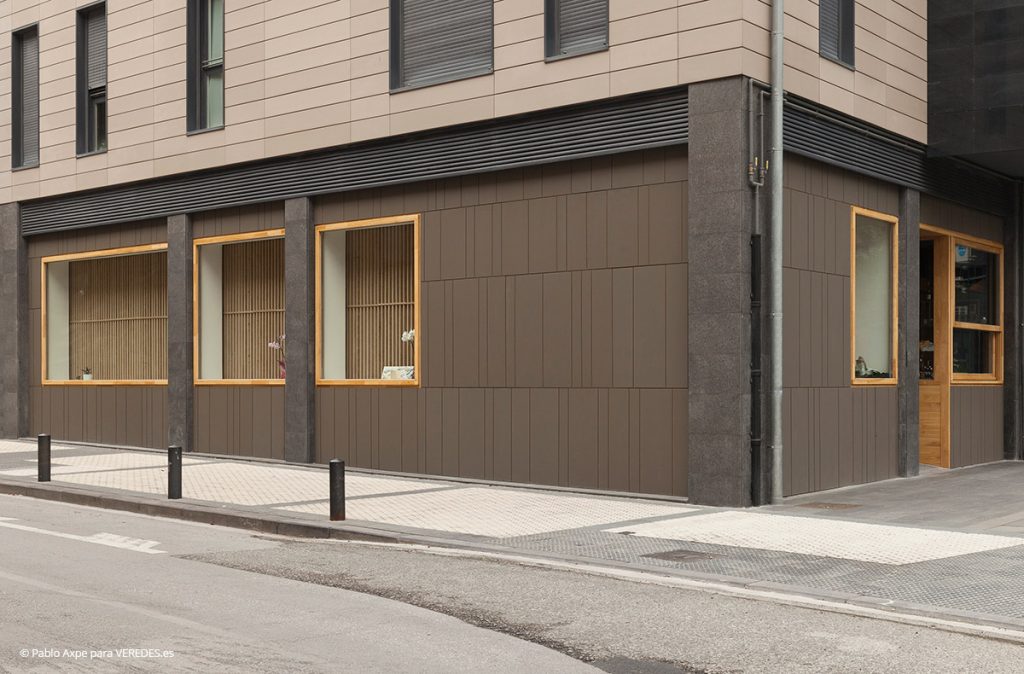 Fourteen years after opening the first Basque-Japanese restaurant in Donostia, chef Hitoshi Karube has moved to a new place expressly conditioned to host his new project, which adopts the name of his partner and companion, Akari Yoshida. The architectural intervention has sought to move to the new space the spirit that characterized the old Txubillo, seeking complicity between the Basque and Japanese cultures.
The composition of the premises in plan, of slightly trapezoidal rectangular geometry and located at one end of the building, together with the desire of the promoters to open the kitchen to the dining room, suggested an arrangement of the production spaces (warehouse-washing-kitchen-bar) attached to the only opaque enclosure. This linear sequence goes from the rear façade (which overlooks a secondary street), in which the private access is located, to the main façade (in contact with a square), in which the public access is located through the bar area At the same end are the toilets facing the bar, both elements articulating the two spaces served: the outdoor terrace and the dining room that occupies the rest of the premises.
The coatings, in some cases wood and ceramic in others, have sought to point out the different spaces that make up the premises, offering a differentiated reading of the different areas despite being spatially connected. Thus, both the bar and the kitchen are functional and cold, lined with black tile and stainless steel, while the dining room looks warm and cozy, wrapped with a latticework made using birch plywood slats that does not distinguish the presence of the window holes. Between them, a strip of white tile and wood establishes a border that separates and connects the two worlds: that of gastronomic production and that of enjoying the culinary experience.
Work: AKARI restaurant
Location: Donostia (Spain)
Author: Estudio Peña Ganchegui
Architects: Rocío Peña, Mario Sangalli
Collaborators: Oscar Sangalli, Amaia Uranga, Unai Urrutikoetxea.
Advisors Laecor (acoustic), Disseminates (lighting), Girolan (air conditioning).
Year ending: 2019
Photography: Pablo Axpe
+ ganchegui.com
Búsqueda para satisfacer el conocimiento de la actividad arquitectónica y tangentes que se generan. La idea es crear un espacio para divulgar los diversos proyectos en busca de nueva inspiración y de intercambio.