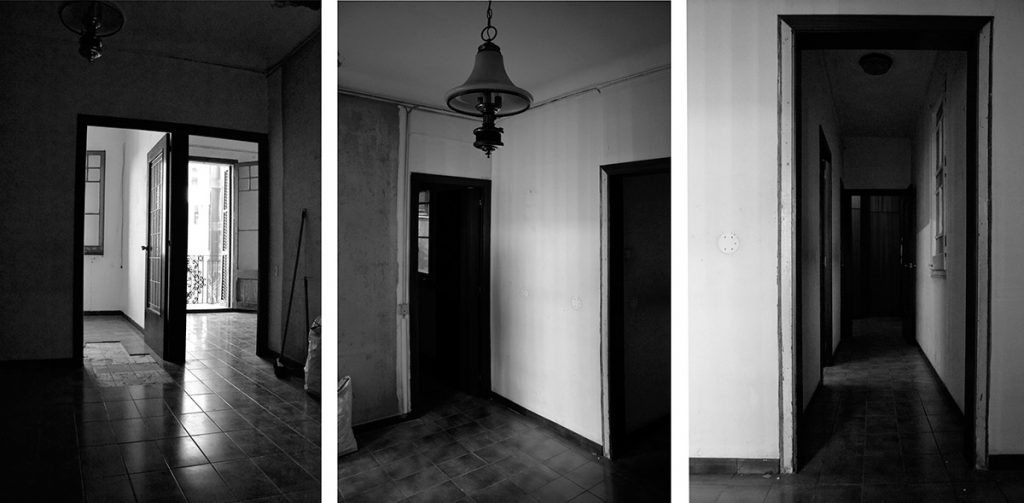 This project presents the reform of a house located in the Eixample Cerdà. The building, which dates back to 1930, has an area of 70 m2 with a main facade that overlooks Calle Provença and a service patio. Originally, the flat had the typical compartmentalized distribution of the Eixample with different layers of materials and facilities that had been superimposed over the years.
Considering the small budget that we had, we decided to maintain the location of the kitchen and bathroom facilities, renewing them completely and thus, using more resources in the rest of the floor.
Defoliation.
Before our intervention, the floor presented a very deteriorated and somber image due to excessive compartmentalization. The main action carried out has been the selective 'defoliation' of all the layers superimposed until arriving at the traditional constructive elements: hydraulic floors, vaulted ceilings and original wooden carpentry. We made a selection of the elements to preserve, that we had to repair and in some cases relocate. Always with the premise of keeping as many elements as possible.
The unique color and design of the hydraulic pavement are an element to highlight in our project, we keep the maximum number of pieces discarding only those that were in very poor condition, remaking the drawings in certain areas and the new distribution adapting to the needs of the pavement.
In order to maximize natural light and provide unity to the house, we painted the entire floor in white highlighting the hydraulic floor and its colors. The new materials that have been included, although clearly current, dialogue harmoniously with the old to maintain the perception of unity.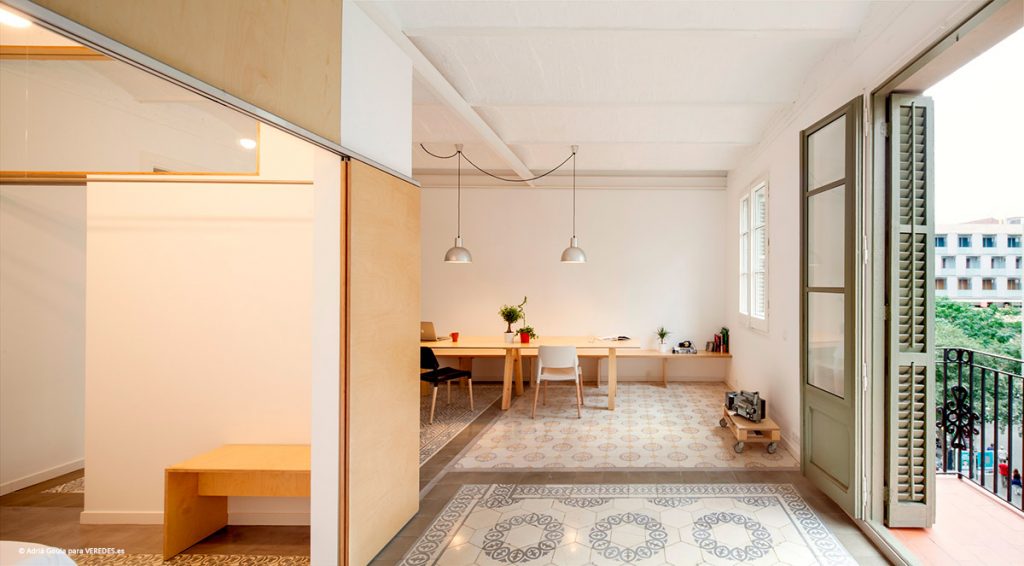 The table as architecture.
We have simplified the distribution to have larger and better-lit spaces. The most relevant area is the dining room, the nerve center of the floor where there is a table of 3.10 meters in length and a bench of 5.20 meters along the wall, which acts as a seat, shelf, space for storage, etc. This unique table of the apartment placed between the living room, the main room and the kitchen concentrates all the activities of the house, thus acting as a study table, a dining table, a place linked to certain kitchen tasks, etc.
Disaggregation of the limit.
We designed interior boundaries to create different spaces with large openings placed to blur the feeling of confinement. Through a system of sliding doors, we can transform the space to grant the necessary privacy, a greater privacy or, expand the space. The doors, which slide on the outside and always in view, generate a dynamic composition of the limits. By replacing the opaque wall with glass in the upper part of the partition, we achieve a greater sense of space without subtracting privacy and significantly improving the natural lighting of the rooms.
Work: Renovation of the apartment in Eixample
Architect: Adrian Elizalde
Client: Juanjo and Magda
Location: Provença 371, Barcelona, Spain
Project: January 2014- July 2014
Area: 70 m2
Photography: Adrià Goula
+ adrianelizalde.com