The rehabilitation of this structure of s. The XIXth of four plants in the neighborhood of the Sponge-cake in Ferrol, centred on the idea of preserving the major quantity of original elements.
The stairs was in a condition about which it was difficult to decide if a sorrow was worth preserving it or not. To support it created a connecting element between all the plants that in addition the original spirit of the building was supporting.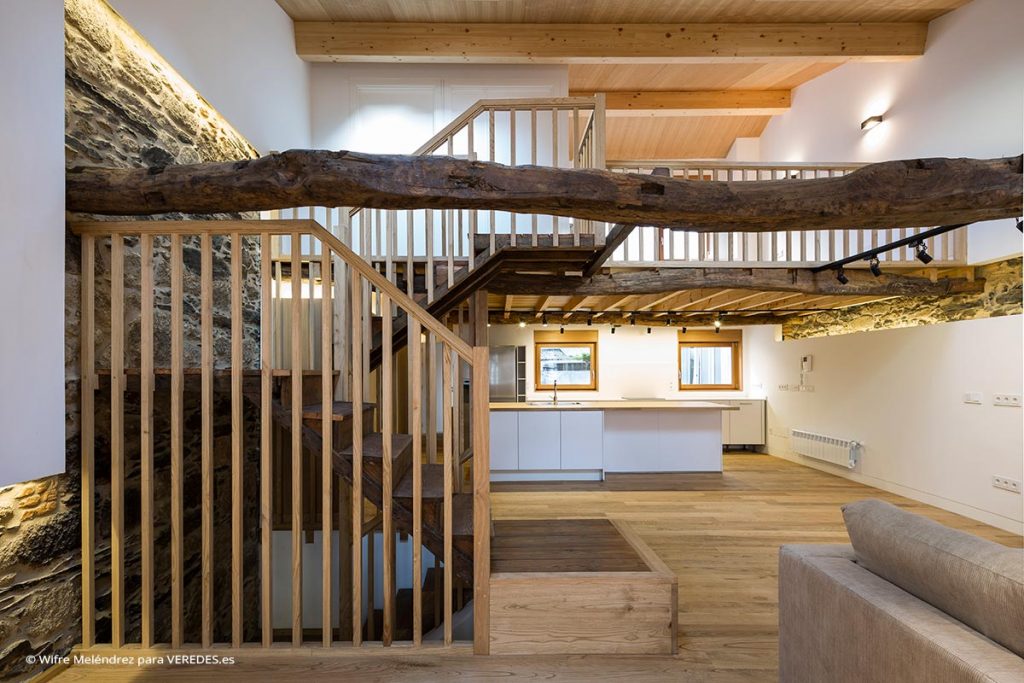 All that you enter, it smells to wood of chestnut-tree and to oil of linseed; the hot and indirect light wraps all the spaces. The palette of materials diminishes to underline the importance of the preexistences. The wood treated to the oil so much in the ancient girders, since in the precious stairs that we undress showing a structure that was not thought to be seen but that is worthy of it.
We open hollows between the trasdosados across which it is possible to see the history of the building, as the extension realized with brick of load. Of it.
The program is very simple: in ground floor they find the offices of the owners, the first plant is the zone by night for them and for his two daughters, who will enjoy from his bedrooms of the smell of the orange blossom of the orange tree that we plant on the court. We decide to dedicate the whole second plant and under cover to a space opened in plant and section, creating a diaphanous and luminous zone by day, seeking to promote the relation and the communication of the members of the family; the more important thing that must give the architecture.
We had the responsibility of preserving the traditional architecture and of dignifying everything what was in good condition of this small building of Rodolfo Ucha's 19th century: the structure of existing wood, the stairs and the dividing walls of stone that have given the soul to the housing.
In short, this project of rehabilitation looks for the maximum respect to the existing thing, honoring the materials, investing and betting for the well-being in the home across the senses, for the simplicity and the sincerity.
Work: Rehabilitation of housing for Melania and Xoaquín
Architect: Carlos Graña Ramos
Collaborators: Pablo Agulla Santos, Guillermo Pomar Blanco, Sarai Cancela Cundíns
Location: Rúa María nº 98. Ferrol (A Coruña)
End Date of work: September, 2016
Housing Area: 290.36m2
Office housing (ground floor): 55.72m2
Photography: Wifre Melendrez
+ arqsea.com
Búsqueda para satisfacer el conocimiento de la actividad arquitectónica y tangentes que se generan. La idea es crear un espacio para divulgar los diversos proyectos en busca de nueva inspiración y de intercambio.