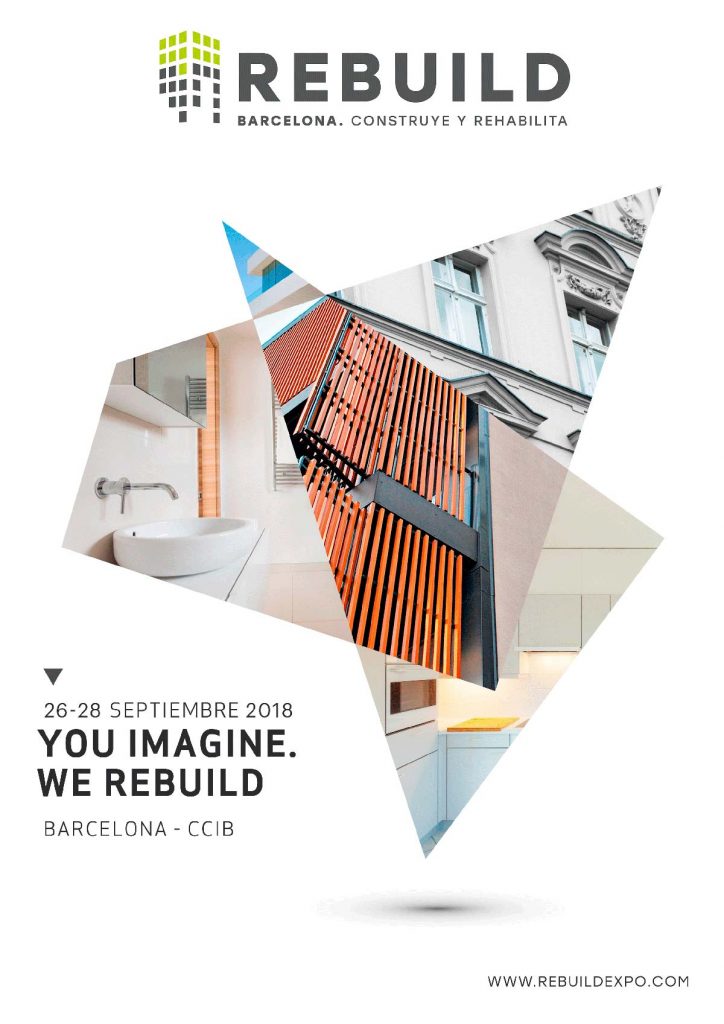 Rebuild is the new innovation boutique event for the sector of construction, renovation, rehabilitation and energy efficiency of homes and buildings that takes place from 26 to 28 September 2018 in Barcelona.
The more than 10,000 architects, surveyors, interior designers, installers, reformers and professionals from the sector will come to Rebuild to discover in the showroom area the latest innovations, products, materials, solutions and services that will allow you to improve the attractiveness of your projects and increase competitiveness in your day to day.
Rebuild is a specialized environment where you will find the latest trends, technology and price information and distributors in your area.
In addition to the showroom area, the National Congress of Advanced Architecture and Construction 4.0 takes place. An unavoidable appointment of knowledge with more than 250 international speakers, 4 stages, 10 verticals and 3 professional Workshops: Wood Construction, Glass Architecture and Energy Efficiency and Installers.
The conference is conceived on three axes (technology and digitalization, efficiency and sustainability and materials and construction systems) and the professional will find sessions dedicated to: construction with augmented reality, passivehaus, building assembley manufacturing, prefabrication on and offsite, modular construction, design, durability, 3D building, automation, BIM, blockchain in construction, proptech, smartlighting, virtual desing and virtual reality, real estate management, among others.
You can check the provisional agenda here.
In addition, the showroom and the congress, Rebuild adds other events that make it an unmissable event for any entrepreneur or professional in the construction sector, interior design and rehabilitation. So, for example, the Leadership Summit is a lunch with the industrial leaders and stakeholders. The Open Innovation Marketplace brings together all technology centers and startups that provide new solutions. And The Advanced Architecture Awards that reward the work, leadership and effort of those companies that bet on innovation and disruption to generate new materials or more efficient equipment to improve the user experience. Applications can be submitted here until July 16.
Therefore, Rebuild becomes for 3 days a year at the annual innovation summit for architects, surveyors, interior designers, designers, installers and reformers.
Búsqueda para satisfacer el conocimiento de la actividad arquitectónica y tangentes que se generan. La idea es crear un espacio para divulgar los diversos proyectos en busca de nueva inspiración y de intercambio.