MAKE Festival is a 10-day long celebration, organized by the international MAKE collective, that brings together between 50 and 200 people from all over the world with the aim of creating a place for debate and practice of arts, architecture, construction and design.
MAKE Festival brings together the different agents and spheres of art, design, and construction (students, collectives, professionals, the local population…) to question and research the contemporary role of the rural world, far from the traditional paternalistic view, and the role of art and architecture as positive agents of transformation, through workshops, exhibitions and talks.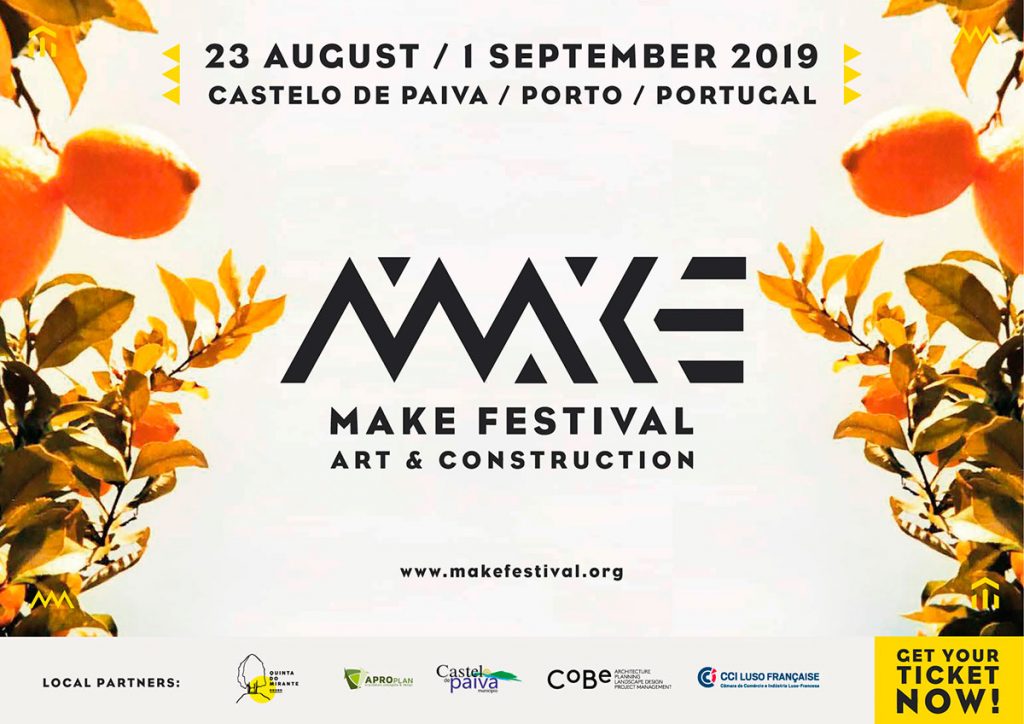 Growing in popularity, beautiful rural Portugal has all the ingredients to become a unique experimental playground to host our event. Last year we've encountered an amazing farm like location near the city of Porto alongside the mighty Douro river where we saw an opportunity to organise something special.
Together with the welcoming spirit of the local community, what's also very typical of the this region are the so called ''Socalcos" terraces where the famous Douro wines are made among many other great agricultural products. Not only the festival terrain is full of socalcos, you can find them everywhere in the valleys and are a great example how people use their land efficiently while still respecting the naturality of the environment. Our aim is to dive a bit deeper into this way-of-life and see how we can interpret and combine though and experiments throughout this event to come up with loads of new ideas and solutions against the rural-urban divergences.
#MakePortugal19 will be held from August 23rd to September 1st, 2019, in Castelo de Paiva (Porto, Portugal), based in a daytime program of workshops structured in #art, #construction, # landscape and #design blocks, and a nighttime program full of live music, cinema, parties, and much more. Come and join this experience! Tickets (limited) are available in Eventbrite, get them HERE.
The final program will be published in the coming weeks; by the moment, already 12 projects / workshops of different sizes and disciplines have been confirmed. Every workshop / project is open to participation at all times, from design to execution, and participants change their positions constantly. Suddenly, projects and people are merged. Materials are adapted to availability, typologies are thought about and questioned, and thus the original project has been revised in ways that weren't envisioned before. Such constructions are spontaneous, born from many different minds and hands.
Main objectives.
– Analyze the development of rural areas related to the growing urbanism.
– Reflect about alternatives for the border between rural and urban.
– Enhance the sustainability towards the environment, society and economics.
– Shape a tool to establish contact, learn and respect the chosen area.
– Stimulate the exchange of knowledge and experience between the visitors and the local party promoting interculturality.
Join the community.
By filling out this one-minute form, you can maintain direct contact with the members of the collective, in order to receive the open calls and festival launches.
Búsqueda para satisfacer el conocimiento de la actividad arquitectónica y tangentes que se generan. La idea es crear un espacio para divulgar los diversos proyectos en busca de nueva inspiración y de intercambio.