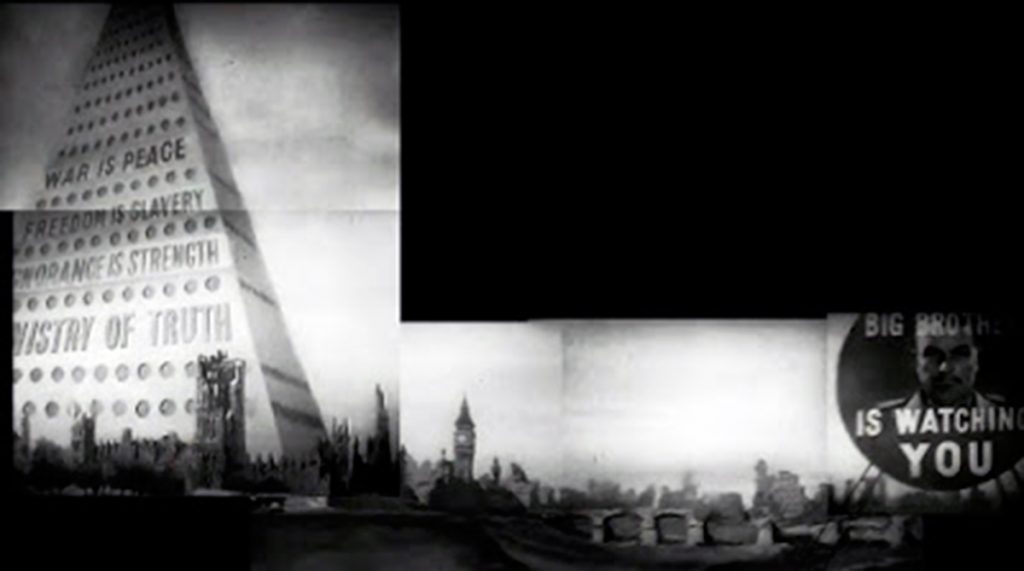 Studying the cities and armored buildings against the aerial bombings, I remembered the design with a warhead shape made by Terence Verity,, the scenographer of the movie 1984 (Michael Anderson, 1956), for the London ministries, which George Orwell describes in his novel:
"The Ministry of Truth: it was different, to an astonishing extent, from any other object that came to view." It was a huge pyramidal structure of shining white concrete, rising, terrace after terrace, some three hundred meters away. In the air, from where Winston was standing, the three slogans of the Party could be read, adhered on its white façade in letters of elegant form:

War is peace.
Freedom is Slavery.
The ignorance is the force.
It was said that the Ministry of Truth had three thousand rooms above ground level and the corresponding ramifications in the subsoil." 
The Eiffel Tower had in 1889 a total height of three hundred meters, without the flagpole that waved at the top; The most faithful reproduction of this building on the screens does not belong to a film, but to a work made for television, directed by Rudolph Carter in 1954, which even has the inscriptions on the facade
Continuing with the description of Orwell:
"In London there were only three other buildings of the same size and appearance, which crushed the surrounding architecture in such a way that from the roof of the Houses of Victory we could distinguish the four buildings at the same time. the four Ministries among which the entire governmental system was divided: the Ministry of Truth, which was dedicated to news, to shows, education and fine arts, the Ministry of Peace, for matters of war. Ministry of Love, in charge of maintaining law and order, and the Ministry of Abundance, to which economic affairs corresponded, their names, in Newspeak: Miniver, Minipax, Minimor and Minindantia." 
It is curious that in the film mentioned at the beginning, six ministries instead of four appear in an aerial view of the city. In another version, perhaps the most interesting, from Orwell's novel, directed by Michael Radford in 1984, to represent the ministries, a unique and real building was chosen, the Senate House of the University of London, by architect Charles Holden (1932 – 1937), which during the Second World War was the headquarters of the Ministry of Information, in whose Department of Censorship, Orwell's wife worked; Allan Cameron, the set designer of this last film, made an interesting proposal, since he created a London of the future as he would have imagined it in 1948, when Orwell finished writing his novel and not as it was in 1984 when it was filmed the movie.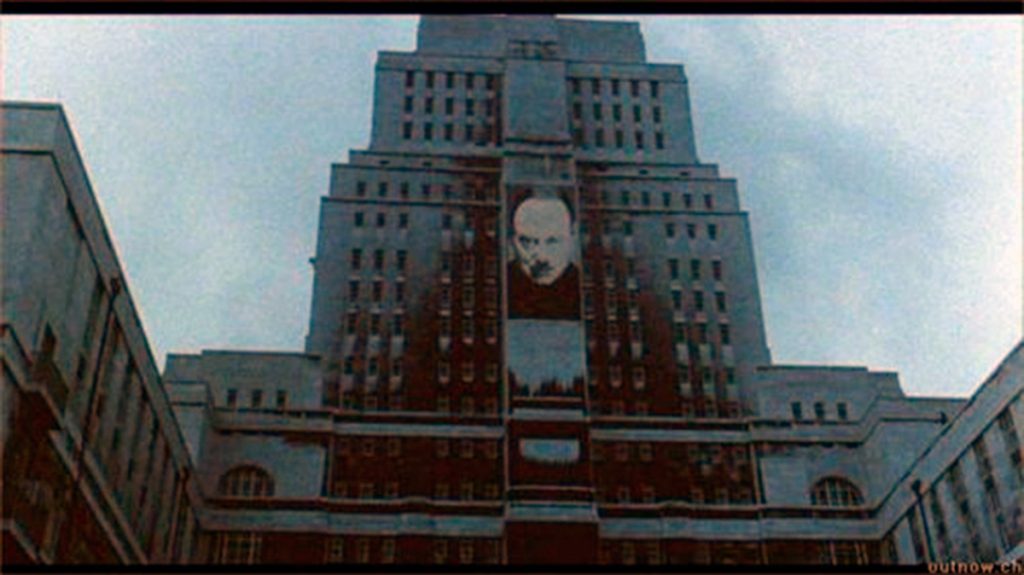 Jorge Gorostiza, PhD architect.
Santa Cruz de Tenerife, march 2018
Author of the blog Arquitectura+Cine+Ciudad
Doctor arquitecto, proyecta y construye edificios y desarrolla trabajos de urbanismo. Desde 1990, publica numerosos artículos sobre cine y arquitectura en medios de su localidad, revistas como Nosferatu, Nickleodeon, Academia, Lateral, Cahiers du Cinema… y en varios volúmenes colectivos. Entre el 2000 y el 2005 dirige la Filmoteca Canaria. Imparte conferencias sobre arquitectura y cine en instituciones como el CAAM en Gran Canaria, la UIMP, el CENDEAC en Murcia, INCUNA en Gijón, Fundación Telefónica, la ETS de Arquitectura y el CCCB de Barcelona, las ETS de Arquitectura de La Coruña, Sevilla, Valencia y SEU madrileña, La Ciudad de la Luz en Alicante, la UNED en Pamplona, en varios colegios de arquitectos, así como en las universidades del País Vasco, Gerona, Valladolid, Málaga, Granada, SEK en Segovia y CEES de Madrid. Jurado en varios festivales cinematográficos, como los de Alcalá de Henares (2001), San Sebastián (2002), Sitges (2003), Las Palmas (2005) y Documentamadrid (2005), y comisario de las exposiciones Constructores de quimeras. (Centro Conde Duque, Madrid, 1999) y La arquitectura de los sueños (Capilla del Oidor, Alcalá de Henares, 2001).
He publicado bastantes libros y muchos artículos, he impartido conferencias, he sido comisario de exposiciones y jurado en muchísmos festivales. Si quieren saber más no duden en consultar mi blog ARQUITECTURA + CINE + CIUDAD.