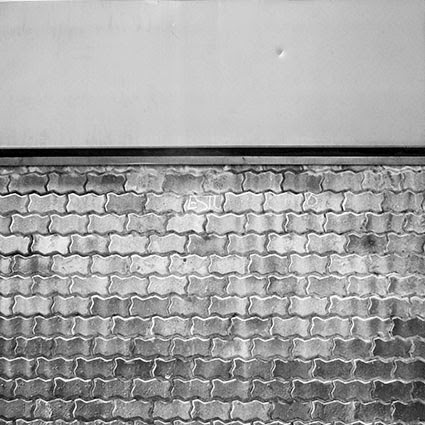 In occasions a fragment hides the traces of the totality. The vibration of the paved one, the diversity of his scales, the sheen of the low light on the broken profile of each and every of the pieces, the soil represents somehow the territory of the whole city, the soil as set of trodden, the country as an amalgam of feet. Nevertheless this image appears before us as a contradiction, since the cobbles do not form a part of any pavement.
In the image the soil returns and transforms in wall, the street turns then into riverbed and the bed of the sidewalks reaches the height adapted before our look. On the urbanization expanded as back of a symmetrically unfolded architecture, the surrounding light one separates elegantly by means of an air meeting, a line of shade, an emptiness as element of joint between the eager solidity of the pavement and the haughty sensitivity of the membrane. If it is observed thoroughly, the top panel of sheet shows a dent, an accurate sign of his fragility, a badge that remembers and explains his position raised on the shore of you her steel. Qualit stamps that alone the time can grant.
The architecture appears every day to the contest of the daily thing; we will write his biography from the permanent friction with our actions and maneuvers. A fragment of the battle might hide the traces of the totality. The loneliness of the dent, his stoicism, his small circumstantial presence shows us the energy contained in our streets, the explosive forces of the metropolis, the virulence of the alone one of his missiles. The protective presence of the cobbles justifies the cold smoothness of the sheet, his metallic arrogance, his certainty beyond the impacts of the life, beyond the daily battle.
Miguel Ángel Díaz Camacho. PhD Architect
Madrid. January 2015.
Author of Parráfos de arquitectura. #arquiParrafos