When one lives as architect, it does it with a continuous worry for what it him surrounds, reinterpreting it in his head and generating new visions of the spaces that he visits, being left to surprise for those that they deserve it and trying to improve those that worry it.
Even more when instead of two they are four the eyes that look. From this curiosity and need to act the collaboration arises in the creation of an ephemeral garden, the only opportunity to alter the known and familiar space to all the pontevedreses surprising not only to the eyes, but to all the senses. The company Elsamex put to our disposition all his energies and aptitude to carry out a task that for moments seemed to be titanic.
The first intention overcame fully the expectations, generating the worry of doing of this initiative an event that rewards the creativity not only of the companies but of those professional architects, designers ó landscape painters who with his collaboration help to provide to the garden of the most contemporary vision, without forgetting the base of the summons, which is to bring the gardening and nature over to the citizen.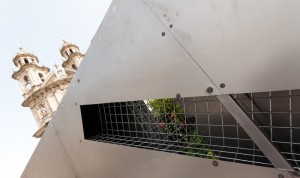 Our installation departs from a sober geometry formed by two concentric walls that annotate and delimit the space. An exterior, hard and rational ring, with shades of invitation to enter, catches you and you aisla of the rest of the environment, permitting to discover the second ring, vegetable and animal this one, in harmonic relation with the organic world, which stimulates the senses up to wrapping yourself in his interior garden.
A synthesis of the binomial Rejection – acceptance, of the detestable thing against the appetizing thing, doing of to live, in this case of the garden, as this place where the refuge is possible. An installation that tries to unite, with his morphology, the concept of Renaissance and medieval garden, with his more closed and labyrinthine configuration, together with the contemporary one, where the metallic sheet interferes as hard contrast with the vegetation, and where the rational thing is reflected in the vertical plane of the sheets, allowing the invasion of the nature and guessing his interior character.
Authors: Mauro Lomba y María Pierres
Collaborators: Carmen Moldes
Technical Agricultural engineer: Agustín González
Company gardening: Elsamex
Location: Pontevedra_Galicia_España
Photographies: Julia Antonio
Búsqueda para satisfacer el conocimiento de la actividad arquitectónica y tangentes que se generan. La idea es crear un espacio para divulgar los diversos proyectos en busca de nueva inspiración y de intercambio.