What is the Qualit manual?
The Qualit manual of the Architectural Project (MC) elaborated by the CSCAE is an instrument at the disposal of the designer for the project draft with a standard for the organization of the information and the justification of the fulfillment of the regulation.
The MC is articulated as document of reference to the control of the fulfillment of the juridical and normative classification applicable to state and autonomous scale to the projects of building. The MC is a document in continuous update that incorporates half-yearly the normative innovations.
The MC also is an instrument that structures in an arranged way the list of the contents that must have all the projects, facilitating the integrity of the document as well as the coherence and entail between the different parts that compose it.
Finally, the MC facilitates to the designer the identification of the elements subject to checking of the integrity and formal correction of the technical document I object during the procedure of visa.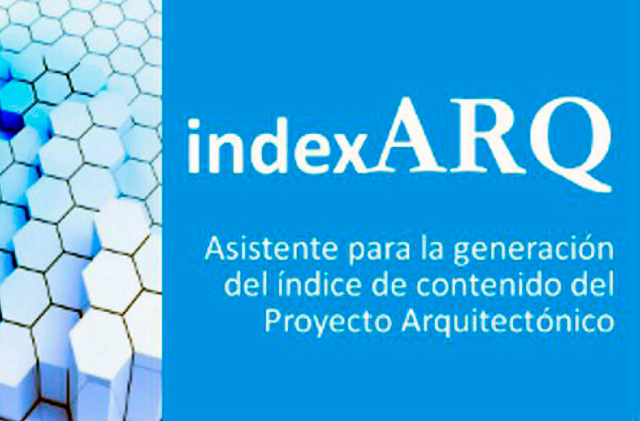 What is indexARQ?
IndexARQ is an IT tool that leaks the contents of the Qualit manual applicable to every project depending on a series of basic fields as the phase (basic, of execution, etc.), principal use, type of work (new plant, intervention in existing building, etc.) and location.
The project content of building that is extracted across IndexARQ is the one that gathers the Annex I of the Part I of the Technical Code of the Building (CTE), developed of agreement with the regulation of application up to obtaining the legal sufficiency of the project.
The reliability of this program is based on the constant update on the part of the Advice and the Colleges of the technical regulation come in his territorial respective areas: state and autonomous.
What do I obtain on having used it?
Once introduced the information and extracted this information, the tool allows to obtain:
– COMPLETE INDEX – the complete content Exports to a document format text (Word).
– LISTS OF CHECKUP OF CONTENT SUBJECT TO VISA.
· Exporting the content of project subject to checking adequacy in the process of visa in format pdf type lists of checkup.
· Exporting the content of project obligatory and subject to checking existence in format pdf type lists of checkup.
Consultations.
For realizing a consultation or to bring an incident it can put in touch with the technical department in the mail indexarq@cscae.com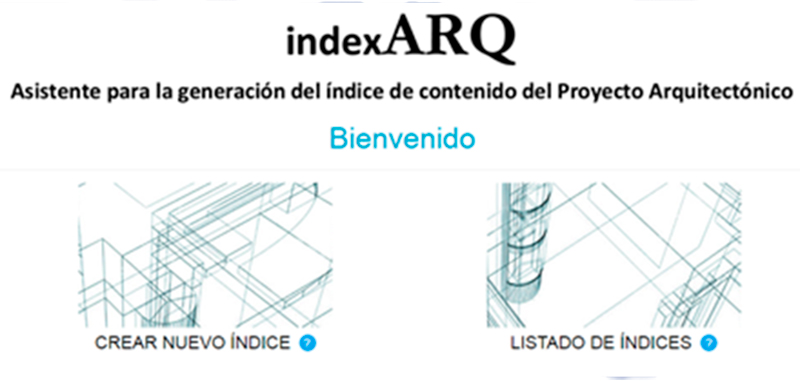 Búsqueda para satisfacer el conocimiento de la actividad arquitectónica y tangentes que se generan. La idea es crear un espacio para divulgar los diversos proyectos en busca de nueva inspiración y de intercambio.