This former hospital was A House of Charity for crippled and rachitic children, directed by the Hospitable Order of God's San Juan, and with the time it finished turning into paediatric clinic of surgery osteo – to articulate, with services of medicine and general surgery. The building, of brick in style neomudejar, acts Ignacio de Aldama Elorz's, the Queen Dona Victoria Eugenia and the Infanta Isabel was inaugurated on March 6, 1912 by the assistance of S. M. in a few areas belonging to Forty Bushels, placed in a height in Chamartín's road, opposite to the villas and Maudes's pinegroves.
At present this place Concha Espina occupies an apple between the streets, Highland and Walk of the Havana.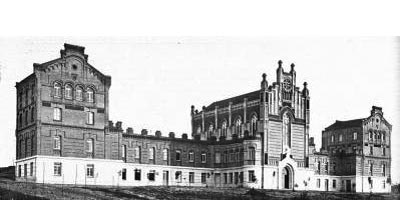 The area was donated by Dña. Maria de los Dolores Romero and Arano and it was measuring 400.000 square feet, (37.200 m2 / 37,2 It Has) that at the cost of the soil in the zone in 1909, the amount of the donation might evaluate concerning 160.000 pesetes.
[…]
Enrique Fidel
+ articlo published in Urban Idade
Búsqueda para satisfacer el conocimiento de la actividad arquitectónica y tangentes que se generan. La idea es crear un espacio para divulgar los diversos proyectos en busca de nueva inspiración y de intercambio.