Next Tuesday, the 10th of April, as part of the programming of the cycle of conferences "Foros Esarq 2012: Modos de Ver" that organizes the Technical Top School of Architecture of the Universitat Internacional of Catalonia, ESARQ-UIC, together with the Chair of Ceramics Ascer of the same faculty, the recognized architect and expert in African culture Peter Rich will give a presentation. Under the title Learnt in translation, the conference, which will be opened the public, will take place at 19:00 in the assembly hall of the Campus Barcelona of the UIC and will teach the wide personal and professional path and the methodology of work of the architect. Great part of the intensive process of observation of the population, of the environment and of the documentation of the context, which Rich exercises, allows him to develop an autochthonous architecture that preserves the social structures and the groups that form a part of the place and that are inalterable.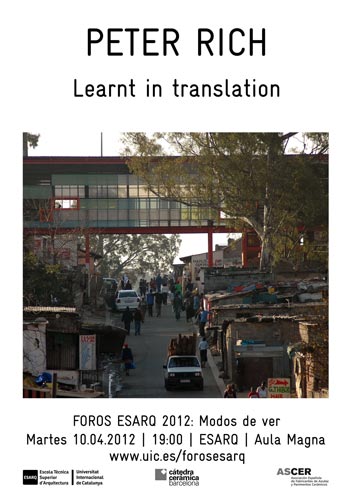 Beside being investigative and pioneering in the documentation of the African accessions for his later spreading, Peter Rich was a faithful activist during the Apartheid and his relation with the indigenous communities has allowed him to create and to promote an African sustainable and real architecture, respecting at all time the essence of his location. " Across a sustainable investigation in the conditions and the local context, I try to contribute solutions that turn out to be only for his space and time " the architect assures.
Peter Rich's work World Building has been recognized by different awards as the prize of the Year del World Architecture Forum of Barcelona, the IASS Tsuboi Award of Shanghai or the Built Environment Category Winner in the Earth Award of London in the year 2009. Honorary member of the American Institute of Architects in 2010, Peter Rich was rewarded the same year with the golden medal that grants the South African Institute of Architects, the most recognized award granted in South Africa to a professional of the architecture.
Title: Peter Rich, expert in African culture
Date: Tuesday on April 10, 2012
Hour: 19.00h
Location: ESARQ-UIC (Aula Magna -C/Immaculada, 22, 08017 Barcelona-)
Organize: ESARQ‐UIC (Escuela Técnica Superior de Arquitectura de la Universitat Internacional de Catalunya)
Búsqueda para satisfacer el conocimiento de la actividad arquitectónica y tangentes que se generan. La idea es crear un espacio para divulgar los diversos proyectos en busca de nueva inspiración y de intercambio.