The founder of Johnston Marklee*Associates of Los Angeles, international modal in the creation of architectural projects with great historical conscience, will give a conference on his vision of the architecture next Tuesday, the 27th of March in the frame of the "Foros ESARQ 2012: Modos de Ver" under the title Generic Specificity (generic Specificity). The appointment, which will be opened the public, will take place at 16:00 in the assembly hall of the Campus Barcelona of the UIC and will serve to debate and to think about the architectural reality, from the method and the projects of the own lecturer.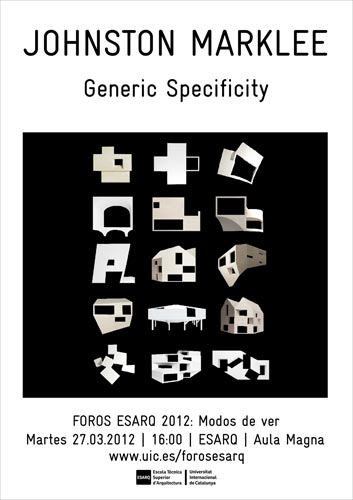 Specialist in creating architecture with a high historical commitment, Mark Lee has the aptitude to realize the architectural only and singular works with an approach to interdiscipline, from the emergent strategies of design for the architecture and the urbanism, as well as of the local tradition. " The architecture of the approximation provides a methodology that assimilates the local, geographical tipologías, the methods of construction, the symbols, traditions and the language as a way the globalidad and a common balance to reach her in the construction of the project ", assures the architect.
Title: Johnston Marklee. Generic Specificity
Date: Tuesday on March 27, 2012
Hour: 16.00h
Location: ESARQ-UIC (Aula Magna -C/Immaculada, 22, 08017 Barcelona-)
Organize: ESARQ‐UIC (Escuela Técnica Superior de Arquitectura de la Universitat Internacional de Catalunya)
Búsqueda para satisfacer el conocimiento de la actividad arquitectónica y tangentes que se generan. La idea es crear un espacio para divulgar los diversos proyectos en busca de nueva inspiración y de intercambio.