On Thursday, the 6nd of Juny them 20:00h, in the ground floor of  [NO IMPORTA] the first session of the So they say cycle, the guest will be trespes arquitectos. The session will divide in the half hour of presentation of the architect and other thirty minutes of informal colloquium with the public.
So they say is a cycle of meetings – colloquia in which there will take part Galician architects belonging to different generations with the intention of presenting a wide spectrum of approaches of the discipline: construction, teaching, spreading, investigation and hybridization with other fields. In all the cases, the backdrop will be a reflection it brings over of the paper of the architect in the current moment and his multiple redefinitions.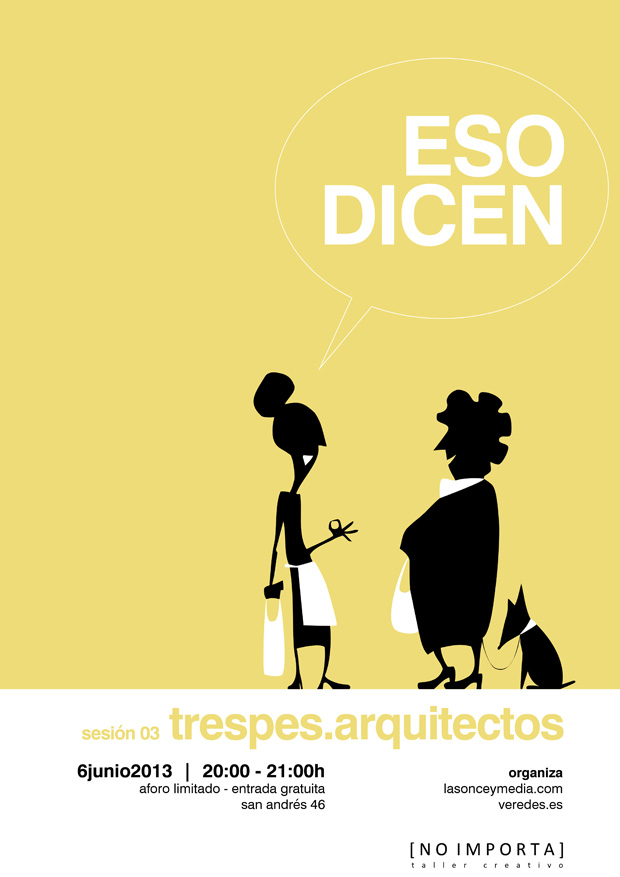 Trespes Arquitectos is an equipment formed by Carlos Mosquera del Palacio, Alberte Pérez Rodríguez and Enrique Iglesias Lima. He understands the architect's trade of a transverse way, from the strictly professional thing up to the cultural spreading. His work was an object of recognition being rewarded in the category of ephemeral architecture of the prizes To +, finalists in the V PREMIOS ENOR and selected in the prizes ARQUIA/Próxima 2010. They coordinate from 2008 the program of diffusion and cultural spreading INTEMCIOM of the bookshop Formats of To Corunna.
SO THEY SAY · trespes arquitectos
Thursday on Juny 16 20:00 – 21:00h
Limited appraisal – admission free
[NO IMPORTA] taller creativo
C/San Andrés 46 planta Baja
La Coruña [Spain]
Organize:
Alberto Alonso Oro [veredes.es]
Maria Olmo Béjar + Borja López Cotelo [lasonceymedia.com]
Búsqueda para satisfacer el conocimiento de la actividad arquitectónica y tangentes que se generan. La idea es crear un espacio para divulgar los diversos proyectos en busca de nueva inspiración y de intercambio.