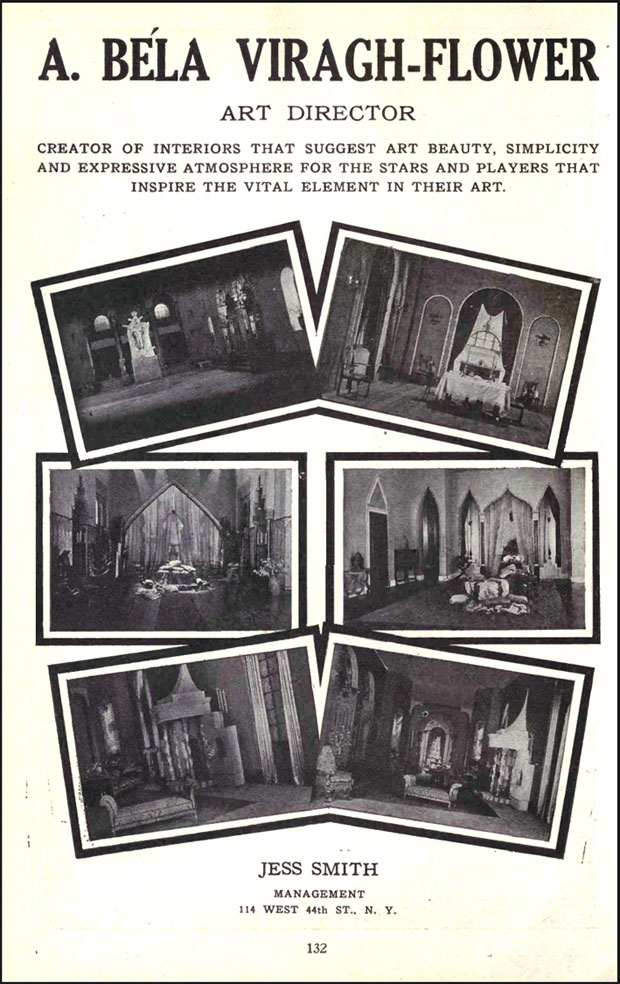 A few months ago I found in the yearbook Motion Picture Studio Directory, edited in EE. UU. in 1921, which might be the first advertisement of an art director, and I write «it might be», because it is the first one that I have found, but there can be previous others.
It published it, I suppose that paying it, a professional very podco acquaintance, A. Béla Viragh-Flower and, since they can read, has a text in that it is named to yes same:
«creator of interiors that suggest artistic beauty, simplicity and expressive atmosphere for the star and actors who inspire the vital element in his art».
Inside the yearbook there is information surely, since always it happens in this type of books, facilitated by he itself, for what one cannot affirm that it should be veracious, in her it is said that his complete name was Albert Béla, who was educated in Budapest, he studied architecture and decoration in Bavaria, and «technical art» in Munich, his career on the screen as interior decorator of interiors, literally it is the following one:
«Thanhouser, Clara Kimball Young, Park and Whiteside, Perry Play Inc. ("The Soul Within")»
and finally it gives the information of his direction in New York. Analyzing his cinematographic work, «Thanhouser» does not refer to Tannhäuser, Wagner's opera, but to the Thanhouser Film Corporation that, founded by Edwin Thanhouser (1865 – 1956), produced near thousand movies from 1910 until 1917; Clara Kimball Young was a great star of the epoch, which also produced a few tapes; Park-Whiteside Productions produced few movies, between them Empty Arms, directed by Frank Reicher in 1920, in which Viragh-Flower appears as art director; Perry Plays was another producer of short path, and The Soul Within looks like the title of a movie, but still I have not found information on her.
In addition it is known that in 1920 Viragh-Flower he was the art director of The Scarlet Dragoon, directed also by Reicher. It is true that in those years the credit titles were not in the habit of including to all the technical personnel, for what it is not possible to affirm that it should not be employed at other movies, yes there is had news that expired in New York on February 5, 1922, a little time after the yearbook was published.
The paradox is that this professional could go on to the history for having been the first one in appearing in an advertisement and without having developed a notable career. Another example of which that one that is published, which is feigned, unfortunately is more lasting and overcomes to the reality.
Jorge Gorostiza, arquitecto. Author of the blog Arquitectura+Cine+Ciudad
Santa Cruz de Tenerife, july 2011
Doctor arquitecto, proyecta y construye edificios y desarrolla trabajos de urbanismo. Desde 1990, publica numerosos artículos sobre cine y arquitectura en medios de su localidad, revistas como Nosferatu, Nickleodeon, Academia, Lateral, Cahiers du Cinema… y en varios volúmenes colectivos. Entre el 2000 y el 2005 dirige la Filmoteca Canaria. Imparte conferencias sobre arquitectura y cine en instituciones como el CAAM en Gran Canaria, la UIMP, el CENDEAC en Murcia, INCUNA en Gijón, Fundación Telefónica, la ETS de Arquitectura y el CCCB de Barcelona, las ETS de Arquitectura de La Coruña, Sevilla, Valencia y SEU madrileña, La Ciudad de la Luz en Alicante, la UNED en Pamplona, en varios colegios de arquitectos, así como en las universidades del País Vasco, Gerona, Valladolid, Málaga, Granada, SEK en Segovia y CEES de Madrid. Jurado en varios festivales cinematográficos, como los de Alcalá de Henares (2001), San Sebastián (2002), Sitges (2003), Las Palmas (2005) y Documentamadrid (2005), y comisario de las exposiciones Constructores de quimeras. (Centro Conde Duque, Madrid, 1999) y La arquitectura de los sueños (Capilla del Oidor, Alcalá de Henares, 2001).
He publicado bastantes libros y muchos artículos, he impartido conferencias, he sido comisario de exposiciones y jurado en muchísmos festivales. Si quieren saber más no duden en consultar mi blog ARQUITECTURA + CINE + CIUDAD.