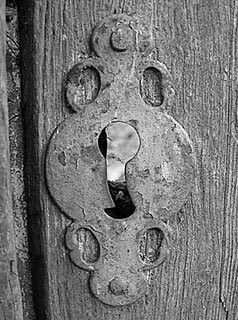 The attentive look requires a direction and a sense, but also a size. A cut.
In the importance to look is the know concentrate the sense of the sight and the understanding. In recognising the limits of what is worth it to observe with spirit to be learnt.
As if of a telescope or a microscope treated  look through a small gap is to move the perception much more there of the immediate. Carry it far. So far as it was possible.
And it is in this selective distance where establishes  the difference. Look supposes to choose, correct, focus. Know direct the eye.
The tendency, however, is the contrary. Often, what looks  is contaminated by what in reality does not matter. By what does not allow us distinguish the important. The gap through the cual looks  is with frequency too big. Too many things distract the attention of the observer.
As if of a telescope or a microscope it was a question to look across a small hollow it is to move the perception far beyond of the immediate thing. To take her far. So far away since be possible.
When to analyse and understand treats  is precise, therefore, define a visual frame adapted. Be able of redimensionar deliberately the size through the cual the things show us.
But it is precise to stand out that the term "far" can define so much a determinate distant space like a remote time that does not belong us. To look far can suppose looking beyond the physical limits but also beyond the temporary funds. And it is at the time when the instrument of the "small hollow" becomes more interesting. The perception is activated in a different and effective way. We are before a frozen, precise, unequivocal perception.
What is a photography but a way of looking across a small hollow. Spatial and temporary simultaneously.
The curiosity, the fundamental protagonist of the good one to look, depends also to a great extent on the small thing that is the hollow for which we look.
We discover undoubtedly in the lock without key, magnetic and tempting, a paradigm of the irresistible thing. There there settles the essence of the pleasure of the inquiry.
If hollows are chosen by those who to look … be born in mind.
Sergio de Miguel, architect
Madrid, september 201o
Búsqueda para satisfacer el conocimiento de la actividad arquitectónica y tangentes que se generan. La idea es crear un espacio para divulgar los diversos proyectos en busca de nueva inspiración y de intercambio.