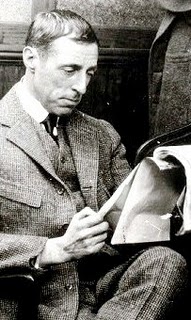 I have found an article written by David W. Griffith published in The Film Daily on June 22, 1924, with permission of Collier's Weekly, titled «The Movies 100 Years From Now».
Always it is risked to predict what will happen in the future and rarely, in spite of what some clairvoyants say, is succeeded. In this case it is curious that the filmmaker doubts that in 2024 there is sonorous cinema, but nevertheless, according to him, there will be orchestras in all the cinemas and the movies will be in color.
As for the projection he writes that «the passengers' air lines will have spectacles with movies in his regular schedules between New York and Chicago and between New York and London. The trains, which two will travel to a speed or three times superior to the current one, will have cinemas on board. Almost every house of good taste will have his room of private projection where fragments, probably, of big movies will be showed to the family and, certainly, the families will do his álbumes with images in movement instead of with ferrotipos and you come out in photographs. In the steams there will be premieres of movies that will take airplanes to them in half of the ocean, and I can add that almost all the matters of our colleges will teach themselves largely with the reproduction of images and educational movies».
It is evident that in 1924 it was difficult to foresee the multitude of screens that surround us in 2011, nor the quantity of architectural diverse spaces where they are placed.
Griffith also writes that in 2024 the movies will be «almost as the alive persons or the existing objects» for what «you will be incapable, sat in the seat of the orchestra, of determining if it are images or the reality». To eliminate the tenuous line that it separates to the reality of the fiction has been always one of the aims of whom they create these fictions and has been tried by wide screens, movies by smell, relief, etc.
As anecdote and to finish, it is possible to add that Griffith foresees that the localities in 2024 will cost «not less than 5$», evidently the director remains short in his appraisal and he would remain amazed at how much it costs already in 2011 an entry, as well as of the turnover that moves about a way that he revolutionized.
Jorge Gorostiza, architect. Author of the blog Arquitectura+Cine+Ciudad
Santa Cruz de Tenerife, july 2011
Doctor arquitecto, proyecta y construye edificios y desarrolla trabajos de urbanismo. Desde 1990, publica numerosos artículos sobre cine y arquitectura en medios de su localidad, revistas como Nosferatu, Nickleodeon, Academia, Lateral, Cahiers du Cinema… y en varios volúmenes colectivos. Entre el 2000 y el 2005 dirige la Filmoteca Canaria. Imparte conferencias sobre arquitectura y cine en instituciones como el CAAM en Gran Canaria, la UIMP, el CENDEAC en Murcia, INCUNA en Gijón, Fundación Telefónica, la ETS de Arquitectura y el CCCB de Barcelona, las ETS de Arquitectura de La Coruña, Sevilla, Valencia y SEU madrileña, La Ciudad de la Luz en Alicante, la UNED en Pamplona, en varios colegios de arquitectos, así como en las universidades del País Vasco, Gerona, Valladolid, Málaga, Granada, SEK en Segovia y CEES de Madrid. Jurado en varios festivales cinematográficos, como los de Alcalá de Henares (2001), San Sebastián (2002), Sitges (2003), Las Palmas (2005) y Documentamadrid (2005), y comisario de las exposiciones Constructores de quimeras. (Centro Conde Duque, Madrid, 1999) y La arquitectura de los sueños (Capilla del Oidor, Alcalá de Henares, 2001).
He publicado bastantes libros y muchos artículos, he impartido conferencias, he sido comisario de exposiciones y jurado en muchísmos festivales. Si quieren saber más no duden en consultar mi blog ARQUITECTURA + CINE + CIUDAD.