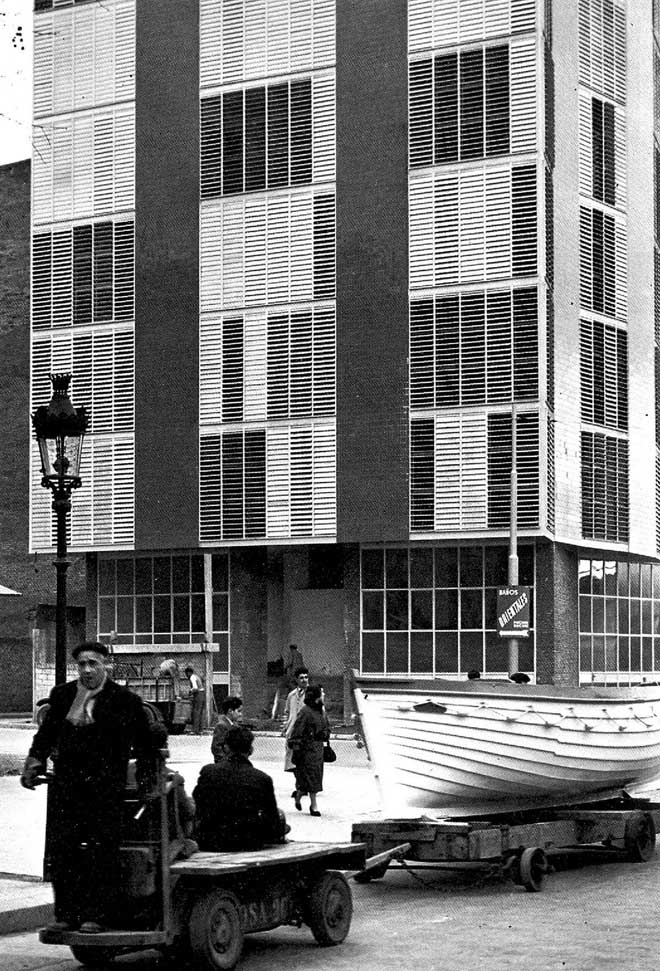 I knew Coderch with this building, it was for finishing the career and an architect friend me "presented" it in a book that I could not have obtained. It impressed me for the complexity of the plant that in the first look is opposed to the clarity of the fronts.
I it re-drew several times and tried to take her to some particular projects, but it me was not possible, it is only, is of his moment and context. Today partitions and doors would be eliminated, the kitchen and baths would be enlarged sacrificing foyers and traffics.
After long reflections I understood that Coderch's real contribution is to demonstrate ourselves how to take light and sea to so much environment since be possible; to control the powerful Mediterranean Sun in the summer and to attract his beams in the winter. How to solve a magisterial work of architecture and in turn to overcome the commercial expectations of the client.
Me apasiona the composition of his foreheads, the balance between the cloths with parasols and the covered ones with ceramics; the studied proportion of the basement, body and auction. The in force of the building, the impeccable of the solution of the details, the elegance of the completion of the fronts in the marquee.
It makes me remember that the Modernity is much more wide than what they claim many classifying her in quadrangular, white and glazed volumes. The Modernity is to be able to do an authentic, coherent project with his time and place. To take advantage of the available technology and to exploit the materials of the zone; to look for the universal thing without forgetting the local thing, or saying of another form, dying of place forms that owe to a universal comprehension of the man.
Aldo G. Facho Dede · Arquitecto Autor del Blog Habitar: Ambiente+Arquitectura+Ciudad
Lima · octubre 2012
Notas:
Las fotos en b/n son obra de F. Catalá Roca y Coderch, publicadas en el libro "Coderch" de la editorial Gustavo Gili.
Las fotos a color son de mi autoría.
Arquitecto-urbanista, docente-investigador, convencido de que nuestro país necesita desarrollar sus ciudades en base a modelos de planificación urbana estratégicos y adaptativos, que partan desde las personas y el ambiente, y que busquen la multiplicación del bienestar y su equitativa distribución.
Arquitecto-Urbanista por la Universidad Nacional de Ingeniería (UNI-FAUA), título homologado en Argentina. Magister en Desarrollo Sustentable por la Universidad de Lanús (UNLA-FLACAM, Argentina). Estudios de Doctorado en la Universidad Politécnica de Cataluña (España). Experiencia profesional en Urbanismo, Planificación Urbana y Arquitectura, desarrollada en las ciudades de Lima-Perú, La Plata-Argentina y Barcelona-España. Ha participado en el desarrollo de proyectos y consultorías para Perú, Argentina, España, México y Brasil. Ha ganado concursos de arquitectura y diseño urbano en Perú y Argentina. Es docente del área de Urbanismo de la USAT y miembro del Consejo Consultivo de la Escuela de Arquitectura de la UDEP. Es socio de FDARQ Urbanismo + Arquitectura y editor del blog HABITAR