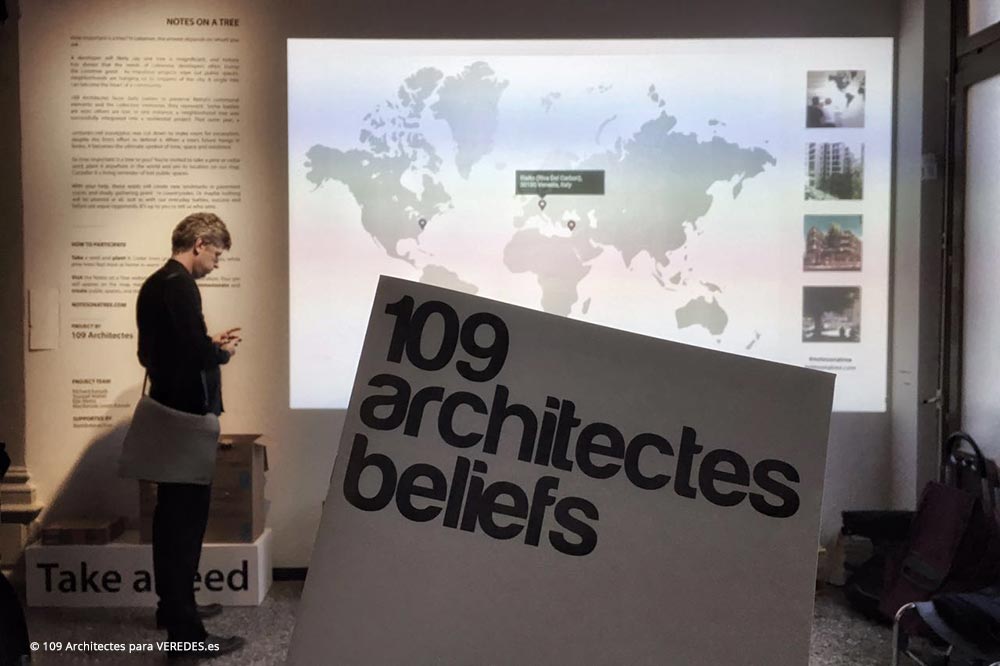 "Diary of a tree" raises the current role of the architects in countries as the Lebanon, where the real estate developers are often those who impose the town planning. By means of the symbolic use of certain trees, this architects' signature uses his own projects to exemplify how the public space should be preserved. Hereby, the offer exposes how, in spite of the fact that some trees manage to be saved and others to get lost, each one represents the history of a community and the collective memory.
The installation answers to the slogan raised by Alejandro Aravena, the director of this edition of the Biennial show, who said:
"[The Biennial of Venice] he will present cases and practices where he competes for the creativity, even at the risk of achieving small victories; because when the problem is big, enclosed an improvement milimétrica also is important."
The assistants to the exhibition will receive seeds of cedar and pine and these samples will be encouraged to plant on any part of the world. In addition, those who do it will be able to visit the page notesonatree.com and to place the location of the tree in a map across a pin. This map will be projected real time during the installation in the Biennial show of Venice, together with the comments in the social networks labelled with #notesonatree. The level of interaction will use 109 Architectes to measure the response of the public to the question raised in the project:
"So important what is a tree?"
"Diary of a tree" will show itself in the Biennial show of Venice until November 27 in the frame of the last edition of the Biennial show of Architecture of Venice 2016. This interactive installation forms a part of the annual exhibition " Time – Space – existence " presented for the Foundation GAA to commemorate the loss of the public spaces in the Lebanon.
Work: Diary of a tree
Location: Bienal de Arquitectura de Venecia 2016
Architects: 109 Architectes (Richard Kassab, Youssef Mallat Lopez, Elie Metni, Makenzie Lewis Kassab)
Photography: 109 Architectes
Sponsors: Borneinteractive, Ministerio de Turismo del Libano
Year: 2016
+ 109architectes.com
• The exhibition has been designed to generate a minimal level of residues, recycling or re-using almost all the materials.
• Notesofatree.com has been designed in association by the agency of means BornInteractive.
• 109 Architectes has been the only signature invited to represent the Lebanon in the exhibition of the GAA Foundation 2016.
Búsqueda para satisfacer el conocimiento de la actividad arquitectónica y tangentes que se generan. La idea es crear un espacio para divulgar los diversos proyectos en busca de nueva inspiración y de intercambio.