Next Tuesday, the 19th of February, continuing with the programming of the cycle of conferences " Forums Esarq 2013: Atmospheres. The sense of the things " that organizes the Technical Top School of Architecture of the Universitat Internacional of Catalonia, ESARQ-UIC, Flores*Prats, they will give a presentation under the title " Conference of Pocket ". The act, which will be opened the public, will take place at 19:00 in the Assembly hall of the Campus Barcelona of the UIC.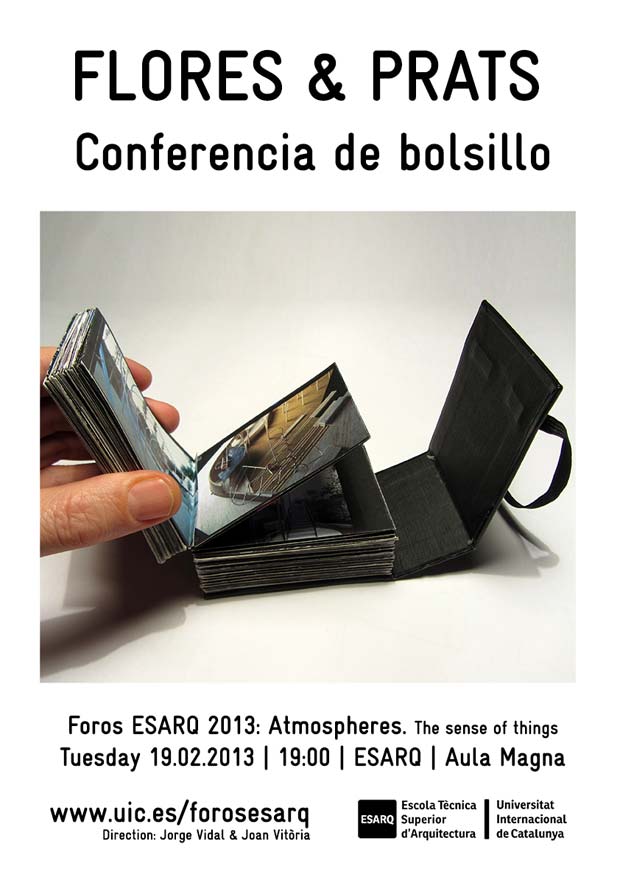 Flores&Prats raise his conference as an appointment to explain and to reason on his projects from the speech that is generated in the ordinariness of the practice of the architecture. They deal for conference of pocket, " this chat that you take with you and that, on having opened her, despliega a fade of images, the whole world of the study guarded in this small object, in your pocket. Every project unites to the following one, and this one to the following one and to the following one … " a memory, a few experiences, a few knowledge that allow an almost cyclical rereading of his professional path.
The Flores&Prats studyhas devoted itself to the confrontation of the theory and the academic practice with the activity proyectual and constructive. His founders, Eve Prats and Ricardo Flores are project teachers in the ETSAB-UPC. They have formed a part of the Directory of the magazine Wallpaper *, workshops have been invited to direct in diverse universities of The United States, Europa's part, Argentina and Australia, and have been rewarded by several prizes of great prestige, as the Grand Award for the Best Work in Architecture de la Royal Academy of Arts of London in 2009.
At present there are finishing the works of the Cultural Center Country house Balaguer of Palma, and in Barcelona, have gained the contest for the New Room International Beckett-workroom of Dramaturgy.
"CONFERENCE OF POCKET" OF THE ARCHITECTS FLORES & PRATS
aim on the life of the projects of a study.
Date: Tuesday, 19 February 2013
Hour: 19.00 h
Place: Upper Technical School of Architecture of the Universitat International of Catalonia (ESARQ-UIC). Classroom Magna -C/ Immaculada, 22, 08017 Barcelona
Búsqueda para satisfacer el conocimiento de la actividad arquitectónica y tangentes que se generan. La idea es crear un espacio para divulgar los diversos proyectos en busca de nueva inspiración y de intercambio.