Open summons for Collaborators
City, citizenship, creativity, micro-town planning, new technologies, nets, share and innovation. These will be words PIN numbers of workshops that [ecosistema urbano] will coordinate during two weeks in the Medialab Field, one of the experimentation centers and urban creativity more interesting of Europe.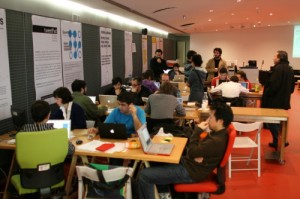 The project [common]: localfeed expects promote and to implement new use dynamics and operation of the public spaces through his hibridación physique-digital. In continuity with previous projects, gets started what we denominate "sensitive"spaces, places in which the use of the TICS (Internet) allows dinamisar and re-to weave communities hiper-local.
[ecosistema urbano] offers 5 squares (a week) to participate in an active way in this project. Every collaborator will be free to participate during one or both duration weeks of the workshop. Send us a motivation letter and a portfolio in pdf format of not more than 5MB to domenico@ecosistemaurbano.com
For the interested parties that do not live in Madrid the Medialab Field offers accommodation in a holds of the city, to choose to it it is necessary to communicate with the center before 4 February.
+ http://medialab-prado.es/article/open_up_convocatoria_para_colaboradores
Búsqueda para satisfacer el conocimiento de la actividad arquitectónica y tangentes que se generan. La idea es crear un espacio para divulgar los diversos proyectos en busca de nueva inspiración y de intercambio.