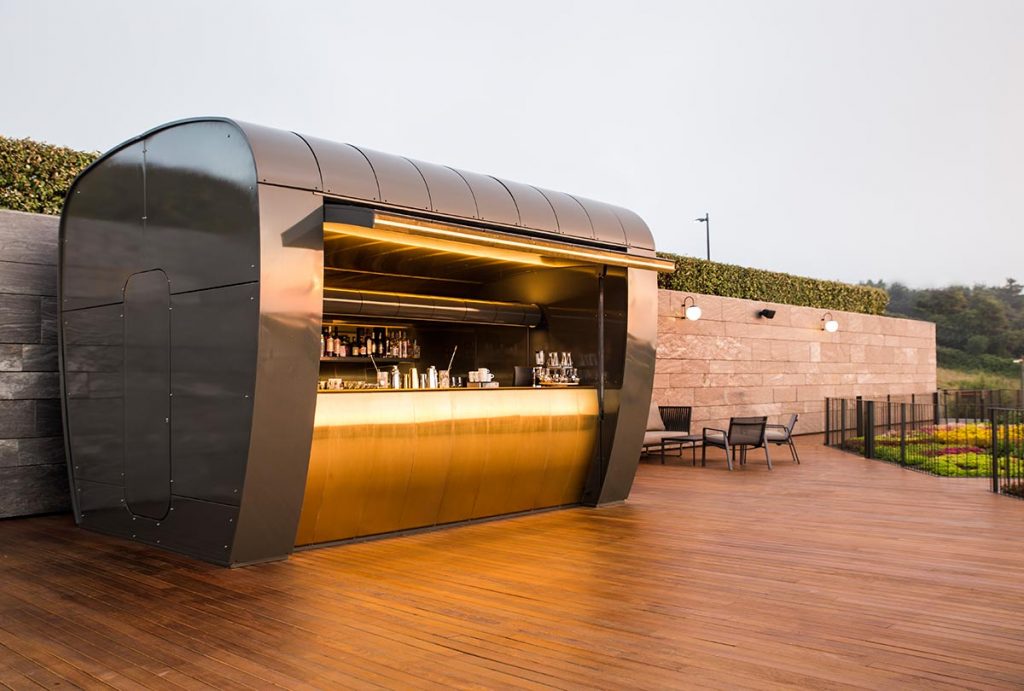 At the beginning of the year, Pedro Subijana told us to design a cocktail bar, from which they could prepare and serve unique drinks and cocktails on the terrace of the Akelarre's Hotel, which we had the opportunity to design in 2017.
From the beginning our idea was to design a moving structure, that could be placed on the hotel's terrace (once totally finished) avoiding any disturbance from works that could disrupt the hotels functionality. A prefabricated element, resistant to the climatic conditions of the area, functional and attractive, always taking into account how the element would be integrated into the space.
We directly started thinking about airplanes as spaces which are totally practical and that work well under the most unfavorable conditions, in which everything has been perfectly articulated by incorporating the most innovative designs.
Following this idea, we analyzed the cross section of the fuselage, in which all the pieces and elements are integrated in a way that creates a functional interior. The aerodynamic and ultraresistant structure protects it from exterior elements and makes the displacement possible rapidly.
From there, we copied this concept and proposed a curvilinear shaped volume entirely composed of a light metallic structure coated with sandwich panels. Those panels make the interior space completely isolated.
The relationship between the interior and exterior is created by a movable part of the curved structure. Using a rotation system, part of the wrap, can be lifted upwards creating a shade that covers the space over the bar area.
When the door is shut down the structure is completely closed forming part of the wrap of a piece whose appearance is dark from the outside in contrast with a unique yet remarkable glowing and bright interior made in golden steel.
In the interior all the elements are integrated in the design generating a continuous surface. That situation makes a bright and functional space which contrast with the exterior.
The contrast between the eclectic interior and the sober exterior creates an atmosphere in which the volume of the structure does not stand out when closed, giving the impression of a hermetic and inaccessible piece. Though it is transformed in a bright spotlight that is striking and unique when open and in activity.
Work: Cocktail Station
Author: Mecanismo (Marta Urtasun and Pedro Rica)
Lcoation: Hotel Akelarre, Monte Igueldo, Donostia, San Sebastián, Spain
Year: 2017
+ mecanismo.org
Búsqueda para satisfacer el conocimiento de la actividad arquitectónica y tangentes que se generan. La idea es crear un espacio para divulgar los diversos proyectos en busca de nueva inspiración y de intercambio.