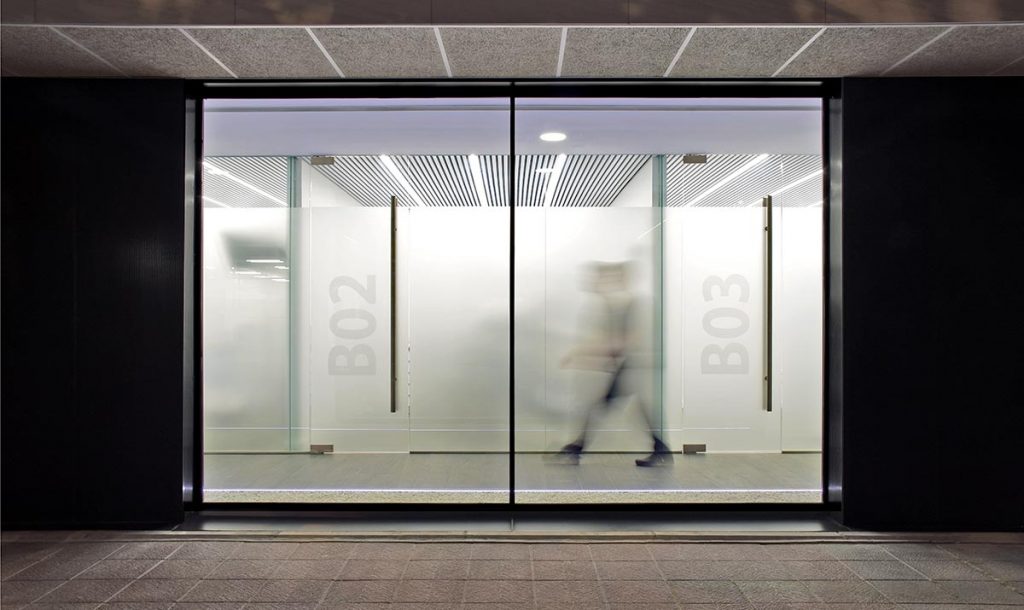 We present the project as an accurate analysis of how must work a dental center. After study the worl system of the employees, we found out that the circulation of the main dental centers had the same problem; how to organize the works area when a patient comes around.
In order to solve this problem, the project has been developed under a double circulation path across the work area. It fits inside the structural elements and the local orientation, getting a clear distribution and cozy areas. Clear colors, combined with black and white, make an impressive contrast from the interior introducing the exterior scene into the local. The facades have been made with big glass walls and obscure metal perforated planes painted in black.
Regarding the interior, the main goal was unify all the space. The ceiling solution emphasizes the continuous space as well as the superior glass of the partitions. From the other side, we project a unique furniture element as a closet idea, hiding doors and panels that include all the program inside them (facilities, restrooms and work areas).
The main materials used are: glass, steel plates black painted, DM white painted panels and metal grey blades for the ceiling.
Project name: Clínica Dental Moreruela
Architecture Firm: Murillo y Hernández Arquitectura
Gross Built Area: 220.00 m²
Project location: Valladolid, Spain
Photo credits: Sergio Alonso Alonso y Ariadna Gutiérrez Quiñones
+ mharquitectura.es
Búsqueda para satisfacer el conocimiento de la actividad arquitectónica y tangentes que se generan. La idea es crear un espacio para divulgar los diversos proyectos en busca de nueva inspiración y de intercambio.