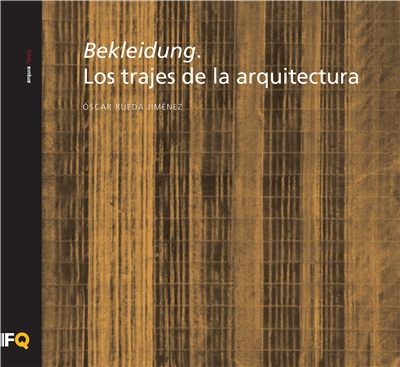 One century after his death, the prolific theoretical production of Gottfried Semper (1803-1879) is an object of successive rereadings. This investigation centres on the beginning: "Das Prinzip der Bekleidung in der Baukunst" (the beginning of the gown in the architecture), that it described in his more relevant work: The style (1860-1863).
This beginning establishes the autonomy of the surrounding one in the architecture opposite to the support that sustains her, and also his protagonism ensencial in the architectural creation. By means of a textile analogy, Semper identifies the interior and exterior surfaces generated by the architecture with the fabrics, in a symbolic and technical plane.
The influence of "The beginning of the gown" of Gottfried Semper in the architecture of Germanic filiation is fundamental. From Adolf Loos, who will be the real distiller of Semper's theory putting it at the disposal of the modern architecture with his writings and architectural expositions, up to Mies van der Rohe, who purifies these expositions constructivly according to a new architectural grammar centred on the definition of the surrounding one and the space. The investigation ends with a brief epilogue dedicated to explaining the repercussion of this symbolic and constructive tradition in the contemporary Herzog & de Meuron´s architecture.
All of them will deepen with his work in the pleasure senstivo that produces the surrounding architectural concebida as a suit, with an exterior significant bundle and an interior tactile back, in touch with the body. They will defend a playful and hot use of the space. Definitively, they will be able to be considered to be the continuers of this tradition semperiana concerning the Baukunst (the art of the construction) that harmonizes technology and art, to which the surrounding one gives priority on the support and which, definitively, achieves a perfect balance between the Apollonian thing and the Dionysian thing.
Author: Óscar Rueda Jiménez
Preface: Juan Navarro Baldeweg
The director of the collection: Carlos Martí Arís
Collection: arquia/tesis
N º of the collection: 40
Theme: Art and Architecture, Theory and History, Test
Year of Edition: 2015
Format: 220 x 245 mm
Pages: 228
Language: Castilian
Illustrations: white and black/color
ISBN: 978-84-940343-8-1
Búsqueda para satisfacer el conocimiento de la actividad arquitectónica y tangentes que se generan. La idea es crear un espacio para divulgar los diversos proyectos en busca de nueva inspiración y de intercambio.