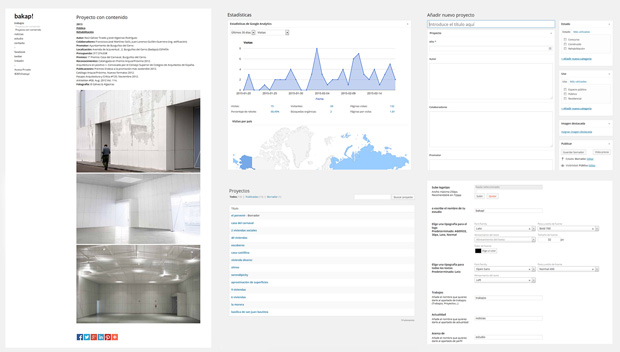 'bakap! is a web application based on WordPress and his aim is facilitate the automanagement of portfolios professionals of the sector of the architecture.
It consists of a backend or panel of management that contains the indispensable thing to publish and to edit content and a frontend or public part with a clean design to optimize the graphical visualization.
Principal characteristics:
· Advanced classification.
Every project relies on a card that it allows to incorporate all the information that intervene in a project or work (authors, collaborators, promoter, budget, recognitions …).
· Images.
The programming of the application facilitates the adjustment and optimization of the size both in pixels and in Kb of the images that are added to every project, improving the visualization and the times of load in any device.
· Determined List.
This option allows to connect from the menu to the projects only if these have content or to list them without connecting to the card of a project if one lacks this information or is not interested in publishing it. (Very useful to formalize a curriculum where the realized projects appear but only to show detailed information of decide).
· Customization.
At present it is possible to personalize the menu of navigation, with a logo or name of the study, change the typography for the logo and the page, change the name of the paragraphs and add links to social networks.
· Social.
Likewise, it is prepared to connect by the social networks including tools to share content or to comment across facebook.
Prove it!
Acces: http://demo.modela2.com/wp-login
User: demo
Password:demo
More information
About the authors
José Lozano. Architect for the ETSAS in 2007. Specialized in graphical design, web design and infografías of architecture. Partner in the study of architecture diecisietemastres and of the modela2 study.
Nacho Villegas. Architect for the ETSAS in 2009. Máster in Management for the UPO in 2012. Specialized in publications of architecture, digital communication and infografías. Second prize was responsible of publishing and at present he is a partner of the modela2 study.
Búsqueda para satisfacer el conocimiento de la actividad arquitectónica y tangentes que se generan. La idea es crear un espacio para divulgar los diversos proyectos en busca de nueva inspiración y de intercambio.