Gregori I. Warchavchik (Odessa, on April 2, 1896 – São Paulo, on July 27, 1972) was one of the principal names of the first generation of architects of the Modern Movement of Brazil. There was treating himself about one architect of Russian origin, that it came to Brazil in 1923, after happening for Italy, where it began his studies of architecture in Odessa. He was a great admirer of Wright's work, knowing it in 1930 in a meeting that it supported with him and with the Brazilian Lúcio Costa.
He was an architect adhered to the futurism, his designs are characterized by the design cubist, always with the intention of constructing " machines to live ". His architecture, of racionalist execution and funcionalista, is orientated by the practicidad and economy, by the reduction of the decorative elements to the minimal thing, by the subordination of the form to the function and by the defense of the need of the union of the artist and of the technician in the person of the architect.
From 1927 until beginning of the decade of 1930, Warchavchik projects a series of modern, houses "rational, comfortable, of pure usefulness, you fill completely of color, light and happiness", according to him it is in the habit of defining them. In the main face explicitan his formal worries for fusing funcionalismo and cubism architectural. Lines and right angles, absence of decorative elements and the attempt of interior and exterior joint of the spaces award balance and harmony to the set.In the house of Max Graf, of the street Melo Alves, São Paulo, 1928/1929, stands out the use of the reinforced concrete and the substitution of the balcony for the marquee. Then, the beginning of the racionalist architecture is fulfilled in a more determined way.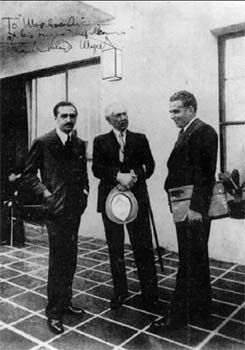 […]
+ article is published in urbipedia.org
Búsqueda para satisfacer el conocimiento de la actividad arquitectónica y tangentes que se generan. La idea es crear un espacio para divulgar los diversos proyectos en busca de nueva inspiración y de intercambio.