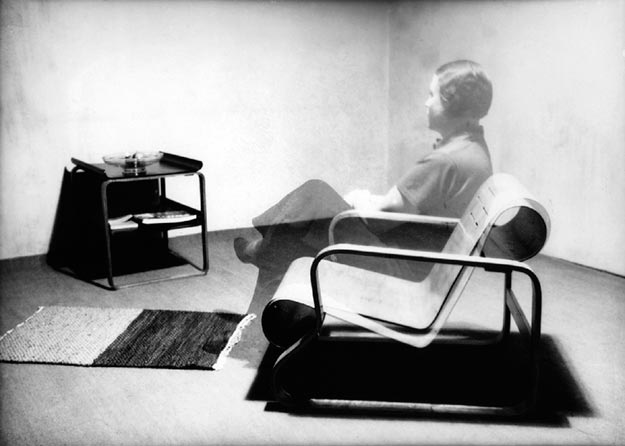 Alvar Aalto (1898-1976) was the most important Finnish architect of his generation and a leading exponent of modernism viewed from a humanistic perspective. His buildings, such as the Paimio Tuberculosis Sanatorium, the Viipuri (Viborg) Library and the Villa Mairea, all situated in Finland, embody a masterful, organic interplay of volume, materials and light.
Aalto's laminated plywood chairs made him one of the 20th century's most famous designers, and his "Savoy" glass vase is today considered the epitome of Finnish organic design.
Over a period of fifty years, Aalto planned almost five-hundred buildings and projects, most of them in Finland but about a hundred in eighteen other countries. Among these are official constructions for cultural use, private houses and exhibition pavilions, as well as industrial installations, office buildings, terraced housing and prefabricated dwellings. Many of his creations are Gesamtkunstwerke, or "total works of art", for which Aalto also designed furniture, lighting, fabrics and even building materials. Exaltation of the everyday through art and culture was a subject that engrossed him throughout his entire life.
Art, together with the contacts and conversations Aalto had with numerous international avant-garde figures, played a significant intermediary role in the translation of natural forms into architecture and design. The architect took a great interest in the potential for symbolic expression inherent in shapes borrowed from nature. He believed that nature illustrated and strategically legitimised a certain creative attitude, as well as a humanistic perspective that strived to preserve individuality in a society of the masses that is mechanised, technologically-driven and conditioned by economic constraints.
Aalto conceived and designed projects thinking of people as the central element which, as he saw it, meant he had to take into account the way we perceive our surroundings. In his projects, the senses of sight and hearing played an important role, subtly guided by the choreography of space and light, but how the materials felt and the "user interfaces" were also relevant. Thus, for their inhabitants or "users", Aalto's constructions became a kind of second nature.
Aalto travelled to Spain twice. In April 1951 he visited Barcelona, Madrid and Palma. He was introduced to the work of Gaudí, but refused to see El Escorial, the symbol of Spanish official architecture. He returned in November and toured Andalusia and northern Morocco. In Granada he visited the Alhambra, referring to it as "an architectural stimulus". Aalto's contact with Spain's young architects was fundamental to the founding, in August 1951, of Grup R in Barcelona, and the drafting of the Alhambra Manifesto in Madrid in 1953, which would revive the spirit of the Modern Movement and project it into the future.
Caixa Forum Barcelona
From 3 June to 23 August, 2015
Organize: Vitra Design Museum and Alvar Aalto Museum
Búsqueda para satisfacer el conocimiento de la actividad arquitectónica y tangentes que se generan. La idea es crear un espacio para divulgar los diversos proyectos en busca de nueva inspiración y de intercambio.