The place has everything necessary.
Space, presence, geometry.
It is of these projects that it is more important what you do not do that what you do.
To generate a space to the street, freely, wide and that in final representations of course fills like assembly hall, was the aim.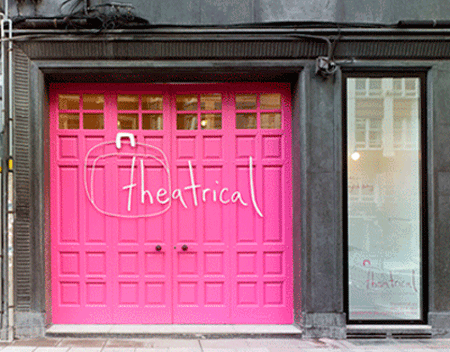 The rest 3 classrooms of the dimension adapted with 3 different doors that differentiate them, a few bathrooms and the respect to a corporate image already established fuchsia … and his logo highlighted against the inner door of existing wood, a door of other times, a curtain that closes the scene …
Work: Theatrical" Academy. Learning English across the theatre
Autores: Fernando Martínez López and Miguel Carballido Pensado [soma arquitectura]
Collaborators: Inés García Dintén and Susana Vázquez Rodríguez
Promoter: Raquel Feliú Torres. "Theatrical"
Year: 2011
Location: Calle Fernando Macías 19 . A Coruña, Galicia, Spain
Builder: Ruraltec
Rigger:Aurelio Gago Losada
Budget: 40.000 euros
Area: 200 m²
Cost / m². 200 euros / m²
Photography: Héctor Santos-Díez | BISimages
+ www.somaa.es
Búsqueda para satisfacer el conocimiento de la actividad arquitectónica y tangentes que se generan. La idea es crear un espacio para divulgar los diversos proyectos en busca de nueva inspiración y de intercambio.