From WHEN THE ARCHITECTURE FINDS THE CITY
It is Fondart's winning project 2015 in the modality Formative Activities, comisariado for M. Pilar Pinchart Saavedra (Doctor Architect ETSA. Madrid. Architect PUC), that With the Architecture like excuse and conductive thread, he invites artists, social actors, writers, intellectual, actors, scientists etc., both of Santiago and of regions to conversing on the crossings between his respective disciplines and areas of work, and his importance for our daily life and as these they are sheltered by the different constructed and urban infrastructures that allow his functioning, and whose relevancy we need to understand to value.
Throughout 10 months, between March and December, both included, the second one will be realized and last Tuesday of every month, a meeting between one or more architects and / or town planners and one or more relevant representatives of one of the cultural considered disciplines and for which every month co will devote herself as topic específi: Dance and Of the circus Arts; Theatre; New Means; Visual Arts; I design; Sciences; Literature; Music; Crafts; Cinema and Photography.
With When The Architecture Finds The City, TRESPA Design Centre, Chile, he proposes as the first independent space for the diffusion of the contemporary Architecture and obliged point of professional meeting in Santiago de Chile.
The cycle possesses the advising of Fernando Perez Oyarzún, Chief of Doctorate in Architecture and Urban Studies of the PUC, Chile, Carlos Franz Thorud, out-standing Chilean writer and Andrea Gutierrez, chairwoman of the Actors' Union and the collaboration of Maria Aparicio Puentes, Architect Or of Chile, Ma. in Urban Design for U. of Barcelona. The first part of the year, it possessed Paul Birke's participation (Gallery Die Ecke) in the participants' selection.
We search creators and architects related to the topics of 2nd semester and that can find here.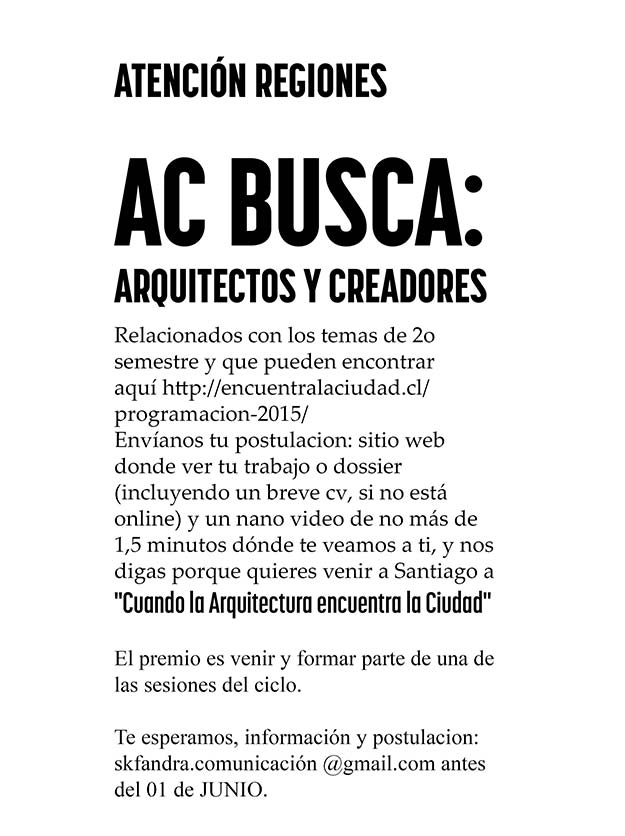 Us send your postulation:
-web site web where to see your work or dossier (including a brief cv, if it is not online) and a video nano of not any more than 1,5 minutes where we see ours you, and say to us because you want to come to Santiago to " When the Architecture finds the City "
skfandra.comunicacion@gmail.com before JUNE 01, 2015. Please to spread between all the valuable persons of regions that you know.

The prize is to come and to form a part of one of the meetings of the second semester of this cycle that it mobilizes near 100 or mas architects and consecrated creators of Santiago and Regions and emergent in the same space, throughout all this year. We wait for you!
Búsqueda para satisfacer el conocimiento de la actividad arquitectónica y tangentes que se generan. La idea es crear un espacio para divulgar los diversos proyectos en busca de nueva inspiración y de intercambio.