Tom Emerson estudió arquitectura en la Universidad de Bath, en el Royal College of Art y en la Universidad de Cambridge, donde posteriormente ejerció la enseñanza, así como profesor en Architectural Associatio y en 2010 en el Swiss Federal Institute of Technology in Zurich. Ha publicado artículos sobre arquitectura, literatura y arte. Ha ganado distintos premios como la medalla RIBA 2010 por la galería de arte Raven Row, situada al este de Londres o el New London Architecture Award 2011, por la aclamada South London Gallery.
La conferencia "Never Modern" versará sobre la influencia social en la planificación de la edificación de distintas zonas de una misma ciudad.  A través de los trabajos del filósofo francés y antropólogo social Bruno Latour, se han forjado las bases del estudio 6a Architects, fundado en 2001 junto con Stephanie Macdonald. Emerson defiende que los alumnos necesitan más habilidades prácticas para su futura profesión, de que en 6a Architects se centran en proyectos vivos, que ayudan en la innovación y conocimiento. Debido a esta manera de ejecutar los proyectos, Este, se ha convertido en uno de los más importantes del Reino Unido.
«La arquitectura es fundamentalmente una obra de bricolaje surgida de entre los escombros de la historia y las comedias de la vida cotidiana (…)»

Tom Emerson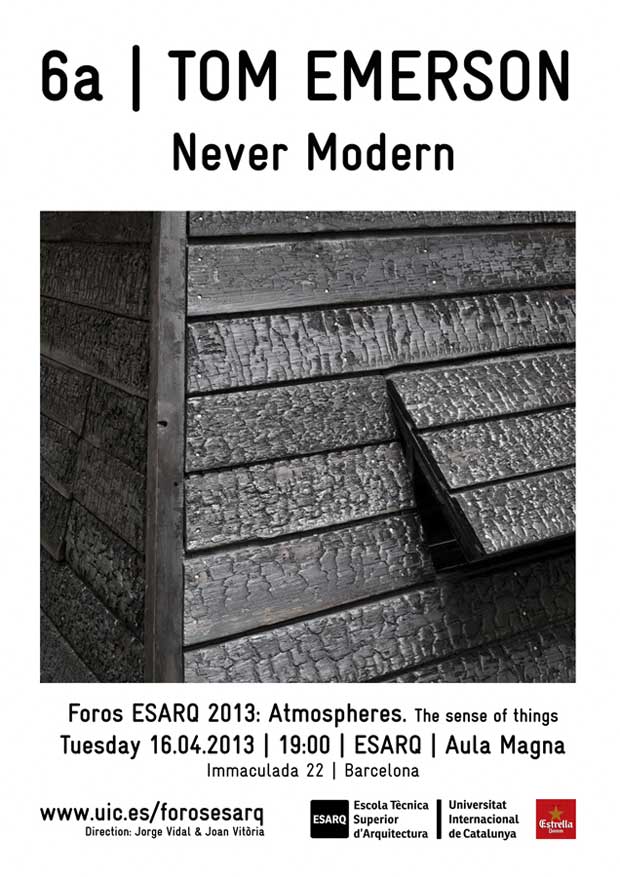 La conferencia se engloba dentro de los FOROS ESARQ 2013, que se realiza en la  Escuela Técnica Superior de Arquitectura de la Universitat Internacional de Catalunya, ESARQ-UIC. El acto, que será abierto al público, tendrá lugar a las 19:00 horas en el Aula Magna en el campus UIC.
Fecha: Martes, 16 de abril de 2013
Hora:  19.00 h
Lugar: Escuela Técnica Superior de Arquitectura de la Universitat Internacional de Catalunya (ESARQ-UIC). Aula Magna -C/ Immaculada, 22, 08017 Barcelona