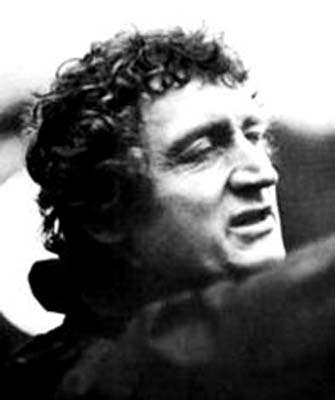 Continuing with the series of texts on the similarities between the filming of a movie and the construction of a building, now I mention the director Walerian Borowczyk, today practically forgotten, but of that I remember his marvellous movie Blanche, before in the eighties it was very known by his erotic movies in that I was interested less than before mentioned, though well it is true that probably would deserve a review; I am useful to recommend a marvellous entry of the Pedro Calleja´s  blog on the movies of this director.
Borowczyk was finding the similarities between Cinema and Architecture in the final phase of the process of creation of a movie, in the assembly, where
«There are also many possibilities of reinforcing the initial idea, by means of the dosing of some movements, for the proportions, for the pace… Always it is possible to invest or change something. There are infinite the possibilities of playing still with the prefabricated units: it is a game of composition»
and he ended up by saying:
«In the construction of a modular home, it has to be exciting for the architect to play with the whole series of already made materials».
Assembly almost as Collage on having had a series of predetermined elements that on having put them in another order turn into something different.
Jorge Gorostiza, architect. Author of the blog Arquitectura+Cine+Ciudad
Santa Cruz de Tenerife, october 2011
Doctor arquitecto, proyecta y construye edificios y desarrolla trabajos de urbanismo. Desde 1990, publica numerosos artículos sobre cine y arquitectura en medios de su localidad, revistas como Nosferatu, Nickleodeon, Academia, Lateral, Cahiers du Cinema… y en varios volúmenes colectivos. Entre el 2000 y el 2005 dirige la Filmoteca Canaria. Imparte conferencias sobre arquitectura y cine en instituciones como el CAAM en Gran Canaria, la UIMP, el CENDEAC en Murcia, INCUNA en Gijón, Fundación Telefónica, la ETS de Arquitectura y el CCCB de Barcelona, las ETS de Arquitectura de La Coruña, Sevilla, Valencia y SEU madrileña, La Ciudad de la Luz en Alicante, la UNED en Pamplona, en varios colegios de arquitectos, así como en las universidades del País Vasco, Gerona, Valladolid, Málaga, Granada, SEK en Segovia y CEES de Madrid. Jurado en varios festivales cinematográficos, como los de Alcalá de Henares (2001), San Sebastián (2002), Sitges (2003), Las Palmas (2005) y Documentamadrid (2005), y comisario de las exposiciones Constructores de quimeras. (Centro Conde Duque, Madrid, 1999) y La arquitectura de los sueños (Capilla del Oidor, Alcalá de Henares, 2001).
He publicado bastantes libros y muchos artículos, he impartido conferencias, he sido comisario de exposiciones y jurado en muchísmos festivales. Si quieren saber más no duden en consultar mi blog ARQUITECTURA + CINE + CIUDAD.