Call: Applications are open for the first edition of the summer design workshop "UNPLUGGED", a project by Zeroundicipiù, Cultural Association for Contemporary Architecture based in Turin.
Objective: to develop a design method based on the acknowledgment and the expression of the architectonical value of construction materials. Participants will be asked to face the "little urban shelter" theme, starting from the analysis, and through the physical manipulation, of a set of construction materials at their disposal.
Usufructuaries: students, recently graduated and young architects of all nationalities, who are interested in understanding the poetical relation that links architecture and materials.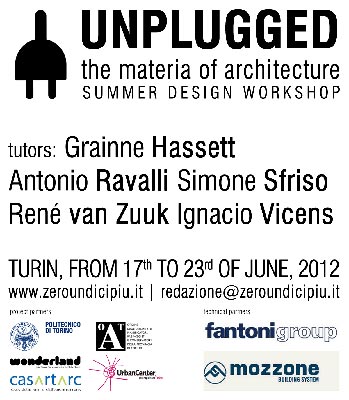 Details
Dates: from the 17th to the 23rd of June, 2012.
Place: Hotel Residence Miramonti, p.za Derna 238, Turin.
Tutors: Grainne Hassett, Antonio Ravalli, Simone Sfriso, René van Zuuk, Ignacio Vicens.
Cost: 250 € (just workshop) or 390 € (workshop and stay with half board treatment).
Credits: participation to the workshop "UNPLUGGED" is worth 3 credits CFU.
Application deadline: 13th of May, 2012.
+ info
Búsqueda para satisfacer el conocimiento de la actividad arquitectónica y tangentes que se generan. La idea es crear un espacio para divulgar los diversos proyectos en busca de nueva inspiración y de intercambio.