The monographic topic of the number of Tectonic recently published devotes itself to the ventilation in the architecture. The classic systems of integral air conditioning are giving step to solutions that incorporate ventilation natural and represented to improve the energy balance of the building, the adaptability to the climatic conditions and the environmental quality. The theoretical content of this section has been elaborated by Ramon Araujo, teacher of construction in the School of Architecture of Madrid. The author analyzes the different active and passive strategies that allow to renew and to improve the quality of the interior air, and to refresh buildings and occupants by means of mechanisms of convection or cooling evaporativo made possible by the natural ventilation.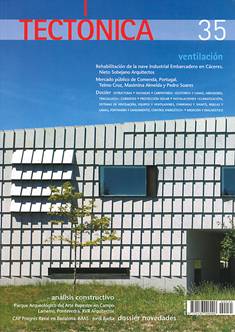 Con dicho enfoque se ha planteado un análisis constructivo de dos proyectos donde la ventilación ha sido una preocupación prioritaria: la rehabilitación de una nave industrial en Aldea Moret (Cáceres), de Nieto Sobejano Arquitectos, que modifica la piel exterior para posibilitar un intercambio controlado de aire y una ventilación natural que colabore en la climatización del edificio; y el mercado de Comenda (Portugal), de Telmo Cruz, Maximina Almeida y Pedro Soares, organizado en dos piezas paralelas que dejan entre sí un patio arbolado diseñado para favorecer la ventilación del conjunto.
The section Constructive Analysis details the technical solutions used in two projects: the sanitary center Badalona's 'Progrés Raval', projected by Jordi Badia, re-dressed in a ceramic lattice who helps to regulate the temperature and the ventilation of the front, and the center of interpretation of the archaeological park in Field Lameiro (Pontevedra), designed by RVR Architects as a semiburied block covered by scales of granite that get up like gills for which it ventilates and climatiza the building.
The Dossier of Products gathers the most interesting products appeared recently in the European market of the construction, paying particular attention to those that provide solutions in ventilation, as crossbeams, fronts and drafty covers, exutorios, lick, aireadores, ventilators, equipments, conduits and grids of ventilation.
Editions: A.T.C. Editions, S.L.
The directors: Jose Maria Marzo and Carlos Quintáns.
29,00 €. 118 pages.
+ tectonicablog.com
Búsqueda para satisfacer el conocimiento de la actividad arquitectónica y tangentes que se generan. La idea es crear un espacio para divulgar los diversos proyectos en busca de nueva inspiración y de intercambio.