The city is the scene where the future will be solved provided that in our cultural and social environment it lives 85 % of the población in cities. Only acting collectivly, learning to organize, sharing knowledge and experience, it is possible to approach the innovation and social action in the city.
The tactical urbanism is that one that centres his actions on the present to have an impact to a major scale of the city. They are actions that have for characteristic take advantage of new formats of work in network and meeting in order that the participation carries a royal action.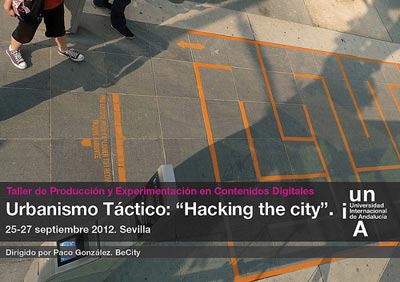 Hacking the city hacker follows the philosophy of learning, intervening and rewriting the code established of the city to be able to modify the functioning of this one. To share, the opened, the decentralized, the free access and the improvement of the environment are beginning that complement each other the approach of the tactical urbanism in the city..
El taller se dirige fundamentalmente a practicantes espaciales y culturales de la ciudad; estudiantes, profesionales y expertos de la ciudad (arquitectura, urbanismo, geografía, sociología, antropología), técnicos de entidades locales y asociaciones que quieran innovar en los procesos de participación y acción ciudadana, apasionados de las nuevas tecnologías urbanas.
Between his aims it is: to propose new tactics to act in the city; to introduce to the use of tools of collective organization presencial; to spread examples of better practices that serve as source code; or to design a prototype that does a hack of a current and royal situation of the city to learn doing collectivly.
Workshop of tactical Urbanism: " Hacking the City " | Seville
Workshop of the Center of Production and Experimentation in Digital Contents.
From September 25 to September 27 in Seville.
Directed by Alpaca Gonzalez (Radarq).
[mappress mapid="76″]
+ info
Búsqueda para satisfacer el conocimiento de la actividad arquitectónica y tangentes que se generan. La idea es crear un espacio para divulgar los diversos proyectos en busca de nueva inspiración y de intercambio.