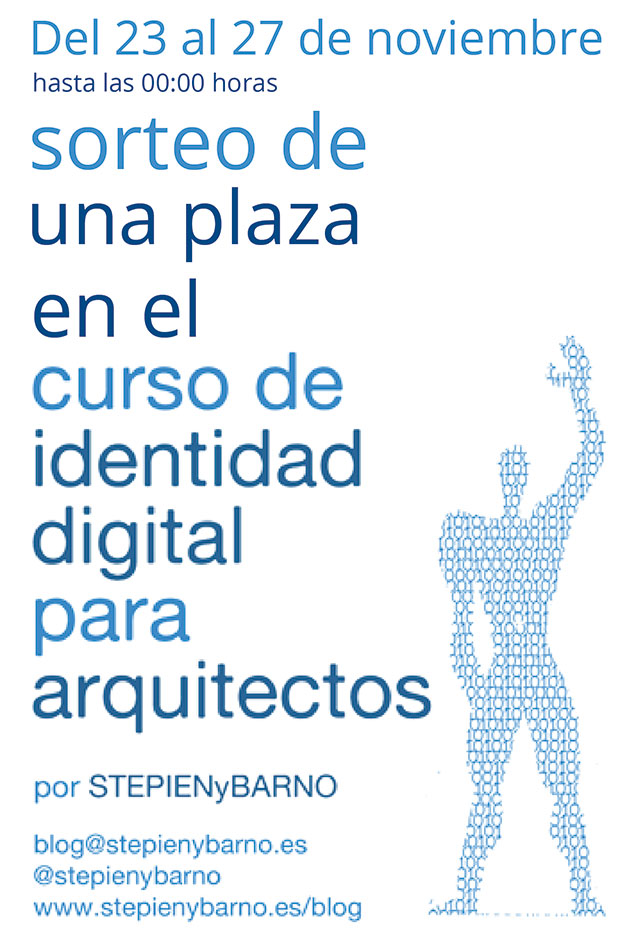 From the blog of architecture Stepienybarno they put to the disposition of the readers of Veredes a free assistance for the new course on Digital Identity that they have mounted, focused exclusively for, we, the architects.
It is a question of the fourth edition and, for the comments of the pupils of the previous editions, the course is very practical and easy to realize.
This way, if you are an architect and you are interested in improving your presence in the network, this one can be your course. Also, to indicate that it has a flexible schedule and is realized totally online for two or three hours a day, in the following dates: between 10 and on December 23, 2015.
"Relatively flexible schedule, though it is necessary to have approximately an availability from 3-4 hours to the day on the part of the pupil during nine days of the course. This way, the ideal minimal time of work on the part of the students will be 30 school hours.

Every day, in the early morning, will supply the necessary material itself and one will be employed intensely throughout the day at the community online, group of facebook and e-mail with the pupils. Our availability during these days will be absolute."
Therefore, between all those that you leave a comment defining in a phrase what it might understand, in your opinion, for Digital Identity, we will avoid a free square.
The term to take part in the drawing is from Monday, the 23rd until Friday, the 27th of November up to the OO:OO hours.
Acceding to the detailed information of the course.
Búsqueda para satisfacer el conocimiento de la actividad arquitectónica y tangentes que se generan. La idea es crear un espacio para divulgar los diversos proyectos en busca de nueva inspiración y de intercambio.