Already the edition is to the sale for iPad of Semper: The style. This edition is legible with the free application iBooks, which includes tools of navigation, search and annotation; the format chosen for this edition uses not available resources in other formats of electronic book that turn out to be particularly profitable for this book especially. From the page of the book in iTunes (direct links to the pages of the different national shops at the foot of this article) one can unload a free sample that includes the Preface and fragments of the chapters 9 and 11.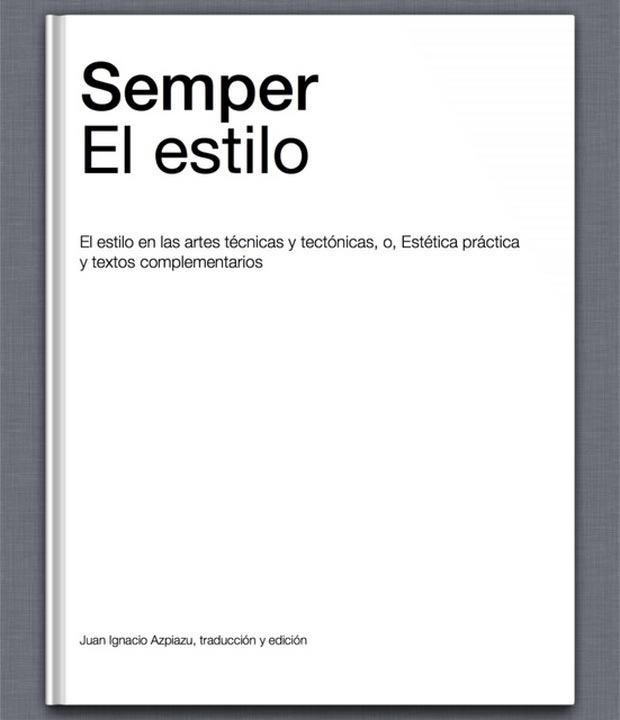 The edition paper, a book of page size A4 and loin of 7,3 cm that includes 184 pages to color, enters to press at the beginning of December and a few weeks later it should be available in Amazon. Still there are details of the distribution and sale for stopping defining, and this page will be getting up-to-date in the matter, but the intention (which concretion should represent a very minor challenge opposite to the one that will have proved to translate, to design and to stamp this book) is that the one who has acquired before the edition for iPad could on having entrusted his printed book to request a discount of 50 % of the value of the digital book – with what the digital book understood with this case as complementary tool of the printed edition, happens to have a cost similar to that of a magazine (without buying the printed book, one is acceding with the electronic version to the content of 1100 pages for the value of two magazines). Due to the method of commercialization of the digital edition, it is not possible for the present time to implement the inverse scheme of a discount in the digital edition for the one who has bought before the printed edition, which price will be approximately 2,5 times that of the foxglove.
[…]
Búsqueda para satisfacer el conocimiento de la actividad arquitectónica y tangentes que se generan. La idea es crear un espacio para divulgar los diversos proyectos en busca de nueva inspiración y de intercambio.