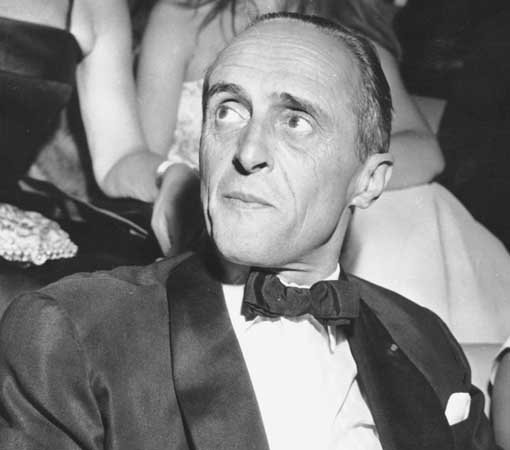 René Clair is a French director in his moment acclaimed and admired, arriving to be member of the French Academy, but that today has been practically forgotten, what extrapolated to the actuality poses how many famous cineastas and current writers will remember  inside some years, by fault to be subjected to the tyranny of the immediate fame.
Clair In his films knew to employ the cinematographic space of a spectacular form, especially, in titles as Sous les toits de Paris, 1930, Le Million, 1931, that begin with two fantastic movements of camera on Paris and À nous la liberté!, 1931, in it appears it a modern factory that has been reproduced in books of architecture, the three with decorated created by the genial Lazare Meerson.
Yesterday reading his texts I found one on how there is done a movie that begins this way:
«In order that you do to yourselves an idea of the conditions in which one conceives and executes a films, in general terms it can be compared with the construction of houses. It is very strange that an architect constructs a house or any other thing for the only satisfaction of his creative impulse. A filmmaker, an architect must bear in mind the tastes of his clients, does not work only, but with numerous collaborators, whose help him is indispensable, and is limited by the material means to his disposition. All that makes impossible that an architect, as a filmmaker, eludes the rules of a profession that is related so much to the art as the industry; every part of this double nature has his own characteristics, which cannot diminish to a common denominator».
In the same text he proposes that the technical personnel who take charge creating the cinematographic spaces, instead of being named «interior decorators» since they were calling in France in that epoch, there is named «architects» since habitual age in the Germany of then, something that did not have repercussion.
Jorge Gorostiza, architect. Author of the blog Arquitectura+Cine+Ciudad
Santa Cruz de Tenerife, april 2011
Doctor arquitecto, proyecta y construye edificios y desarrolla trabajos de urbanismo. Desde 1990, publica numerosos artículos sobre cine y arquitectura en medios de su localidad, revistas como Nosferatu, Nickleodeon, Academia, Lateral, Cahiers du Cinema… y en varios volúmenes colectivos. Entre el 2000 y el 2005 dirige la Filmoteca Canaria. Imparte conferencias sobre arquitectura y cine en instituciones como el CAAM en Gran Canaria, la UIMP, el CENDEAC en Murcia, INCUNA en Gijón, Fundación Telefónica, la ETS de Arquitectura y el CCCB de Barcelona, las ETS de Arquitectura de La Coruña, Sevilla, Valencia y SEU madrileña, La Ciudad de la Luz en Alicante, la UNED en Pamplona, en varios colegios de arquitectos, así como en las universidades del País Vasco, Gerona, Valladolid, Málaga, Granada, SEK en Segovia y CEES de Madrid. Jurado en varios festivales cinematográficos, como los de Alcalá de Henares (2001), San Sebastián (2002), Sitges (2003), Las Palmas (2005) y Documentamadrid (2005), y comisario de las exposiciones Constructores de quimeras. (Centro Conde Duque, Madrid, 1999) y La arquitectura de los sueños (Capilla del Oidor, Alcalá de Henares, 2001).
He publicado bastantes libros y muchos artículos, he impartido conferencias, he sido comisario de exposiciones y jurado en muchísmos festivales. Si quieren saber más no duden en consultar mi blog ARQUITECTURA + CINE + CIUDAD.