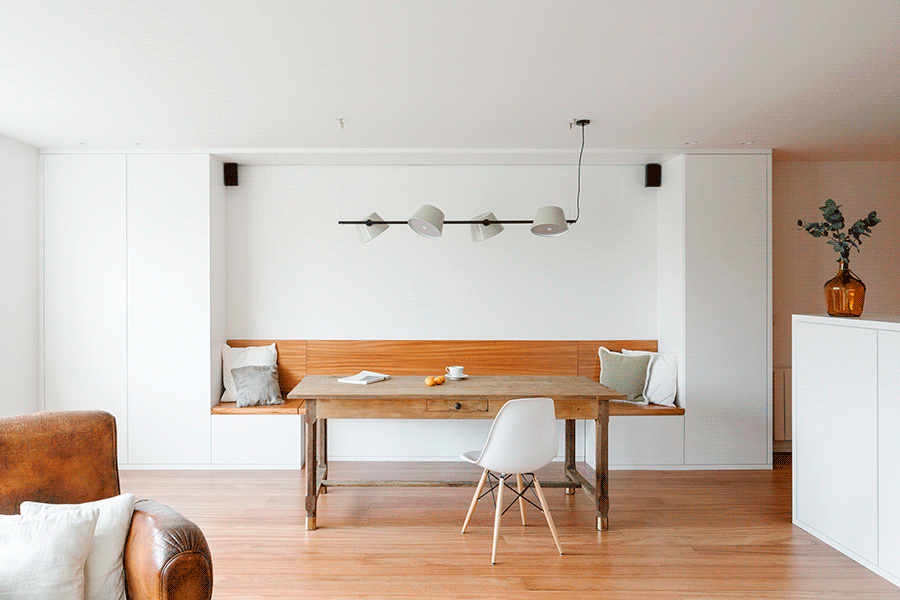 In the historical hull of Native of Avila, next the Oscar Niemeyer Cultural Center, proposes himself the integral reform of a housing of 123 m2, formed by three small bedrooms, two baths, bathroom, kitchen with scanty natural light and lounge, spaciously but of difficult amueblamiento, with exit to a small terrace with a few agreeable conference on a park full of vegetation.
The offer is born of the idea base of "central box" as core of joint, favoring the elimination of the corridor. Re-dressed in wood, it shelters a pantry and a bath, which is illuminated in a natural way by means of a glass in the top part of the same one. In turn, it articulates the entry, lounge and kitchen, separated functionally across glass doors, we obtain this way, a great natural lighting proceeding from the lounge.
Independent, the zone appears by night, formed by 3 bedrooms, where the principal room acquires singularity composed by dressing room, bath and zone of study, communicated with the lounge, favors the sequence of spaces.
A dialog has been established between the architecture and the design of the furniture, acquiring protagonism and functionality, the wood and the white is combined, contributing great luminosity to the housing.
Work: Floor Reform in Avilés
Location: Avilés, Spain
Architect: David Olmos Arquitectos
Forniture: Caravan Bay
Photography: Luis Díaz Díaz
+ davidolmosarquitectos.com
Búsqueda para satisfacer el conocimiento de la actividad arquitectónica y tangentes que se generan. La idea es crear un espacio para divulgar los diversos proyectos en busca de nueva inspiración y de intercambio.