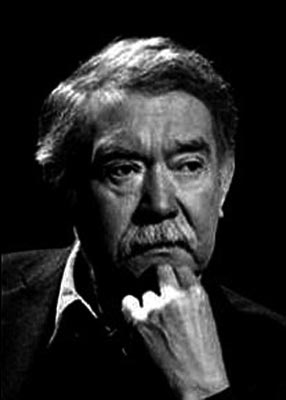 In the series of texts that I have named Architects and Filmmakers, and that relate the accomplishment of a movie to a building, I have been publishing some of the directors, as Ingmar Bergman, Walerian Borowcyk, René Clair, John Ford, Amos Gitai, Peter Greenaway and Dziga Vertov; of an actress, Viola Dana and of an investigator, Sigfried Giedion.
The second number of the marvellous digital magazine Lola, edited by Adrian Martin and Girish Shambu,  publishes the speech, graduate «The cinema is another life», that it gave Raúl Ruiz when it received the doctorate "honoris causes" in the Ecole Normale Supérieure of Lyons, November 18, 2005, and that begins this way:
«I want to count a secret. The cinema, this art of the light, exists. But if it exists, it is only due to the shade that uses him as poetical support. It is this shade – or rather, the darkness – the one that it allows him to construct (like a puzzle) a building, a mental palace or labyrinth, in which there lives a wild beast, our animal double, a felgyacomo the former vikingos were calling it, and this beast looks at us, waits for us, and prepares itself to devour us».
Since they will see, a completely fascinating beginning that invites to continue reading the speech here.
Jorge Gorostiza, architect. Author of the blog Arquitectura+Cine+Ciudad
Santa Cruz de Tenerife, juny 2012
Doctor arquitecto, proyecta y construye edificios y desarrolla trabajos de urbanismo. Desde 1990, publica numerosos artículos sobre cine y arquitectura en medios de su localidad, revistas como Nosferatu, Nickleodeon, Academia, Lateral, Cahiers du Cinema… y en varios volúmenes colectivos. Entre el 2000 y el 2005 dirige la Filmoteca Canaria. Imparte conferencias sobre arquitectura y cine en instituciones como el CAAM en Gran Canaria, la UIMP, el CENDEAC en Murcia, INCUNA en Gijón, Fundación Telefónica, la ETS de Arquitectura y el CCCB de Barcelona, las ETS de Arquitectura de La Coruña, Sevilla, Valencia y SEU madrileña, La Ciudad de la Luz en Alicante, la UNED en Pamplona, en varios colegios de arquitectos, así como en las universidades del País Vasco, Gerona, Valladolid, Málaga, Granada, SEK en Segovia y CEES de Madrid. Jurado en varios festivales cinematográficos, como los de Alcalá de Henares (2001), San Sebastián (2002), Sitges (2003), Las Palmas (2005) y Documentamadrid (2005), y comisario de las exposiciones Constructores de quimeras. (Centro Conde Duque, Madrid, 1999) y La arquitectura de los sueños (Capilla del Oidor, Alcalá de Henares, 2001).
He publicado bastantes libros y muchos artículos, he impartido conferencias, he sido comisario de exposiciones y jurado en muchísmos festivales. Si quieren saber más no duden en consultar mi blog ARQUITECTURA + CINE + CIUDAD.