Next November 2, 2013, the architect Rafael Aburto will celebrate his hundred birthdays. In his honoring, the Foundation puts at the disposal of the users registered in his web, the free unload and visualization in pdf of the publication arquia/thesis 18 Rafael Aburto, architect. Another Iñaki Bergera's modernity.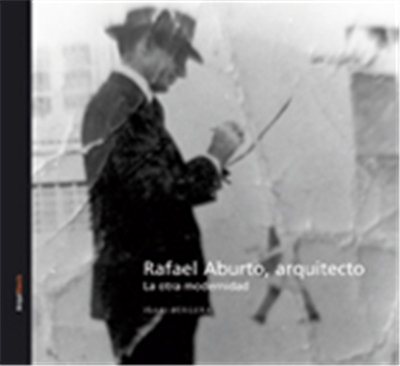 This book analyzes the figure and the work of the architect Rafael Aburto Renobales. It is a question of the first systematic review of the personal and professional path of this architect, titled by the School of Madrid in 1943.
The author attacks a study of Aburto's legacy to the architectural Spanish modernity of the 20th century. This critical analysis is structured in four big chapters. The first one presents the personage and his interpretive coordinates. The second one and the third party approach a thematic not chronological study of the episodes and concepts that sublie in the path of the architect. Finally, the fourth chapter analyzes his four more important projects: the contest of the Town hall of Toronto (1958), the building of the diary People (1959), the contest of the Opera of Madrid (1963) and the housings in Neguri (1966). Ultimately there is claimed that the reader tastes with depth the signs of identity of his architecture: there are formulated the beginning and interests that sustained his architectural production and that can serve, in last case, to enrich the study of the Spanish recent architecture by means of the valuation of a timeless, not canonical architecture, but whose unequivocally abstract – rational and expressive language at the same time – highlights Rafael Aburto's amazing artistic and creative mien.
Iñaki Bergera is an architect for the University of Navarre in 1997. Scholarship holder for the Foundation the Caixa, in 2002 graduated with extraordinary prize in the Master in Design Studies of the Graduate School of Design of Harvard's University (GSD). In 2002 Architect obtained the Doctor's title with a thesis on the architect Rafael Aburto, rewarded and published in 2005 by the Foundation Architects' Box and Prize of Culture COAVN 2007. He was a commissioner of the exhibition on this architect organized by the Department of Housing in Madrid (2005). He has been A Teacher in different Spanish and foreign universities. Specialized in Spanish contemporary architecture and it comes out in photographs, has published articles in magazines, catalogues and press, has given seminars and conferences and read presentations in national and international congresses, taking part equally in diverse collective investigations, between which stands out the European project of Record of the Spanish Architecture of the 20th century. From 2006 it is employed at collaboration with Iñigo Beguiristáin. His works have been distinguished by a wide recognition in summons of national and international area.
Búsqueda para satisfacer el conocimiento de la actividad arquitectónica y tangentes que se generan. La idea es crear un espacio para divulgar los diversos proyectos en busca de nueva inspiración y de intercambio.