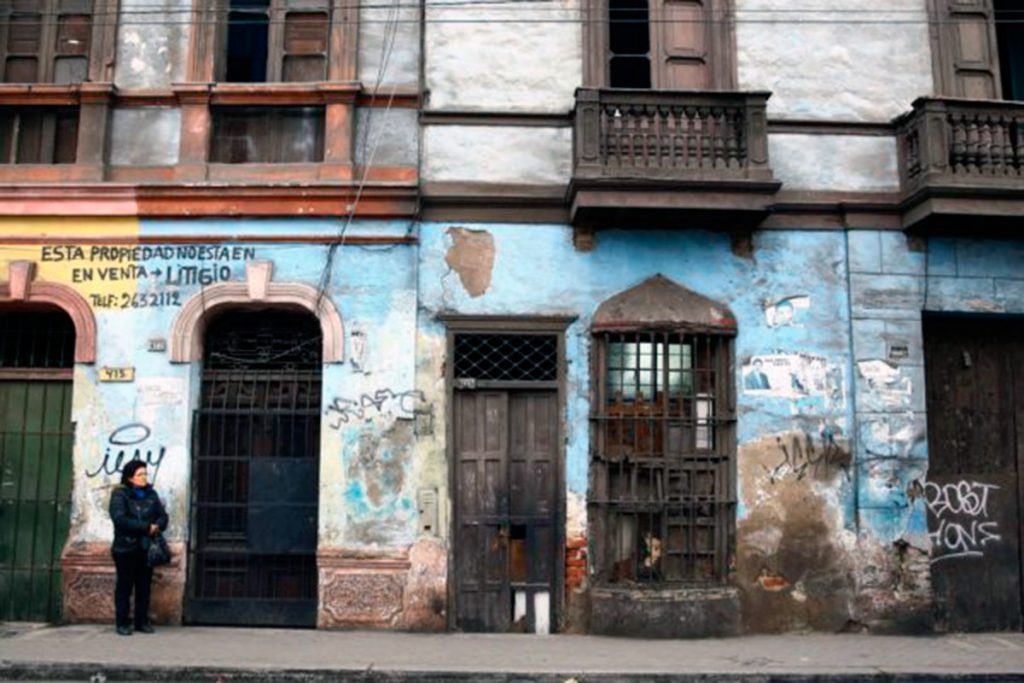 If we asked him
which building has more relevance for you? A 19th century house or the house where they arrested Abimael Guzmán?
it is probable that he would choose the second one, because of it he has more historical information, and he perceives that he has had more relevance in his present. Well, possibly the first one is protected by the laws of preservation, and the second one can be demolished at any time to make way for a modern building.
This provocation aims to highlight a debate that has not taken place in our country, at least with sufficient depth, and has to do with the sense that should lead us to determine that certain buildings must be maintained in an integral or partial way for the future.
The reality is that our historical centers remain in precarious conditions, and this is not only due to the action of the occupants or owners of the heritage assets, but also due to the lack of consensus and direction on the part of those who should ensure their recovery and preservation. It seems that we have no real capacity to be able to preserve the legacy that we ourselves have cataloged as such, and that no norm, prohibition or stimulus is going to be enough to reverse this process.
I believe that there are certain substantive questions that we should ask ourselves before continuing to preserve a heritage that is getting out of hand every day:
Why do we preserve buildings?

What components of these buildings contribute to the realization of that end?

How do we finance its restoration and guarantee its maintenance?
To begin answering them, I think it would be important to understand that the preservation of real estate should not be an end in itself, but a means to achieve a greater end.
 That is why it should be based on the recovery, preservation and construction of collective memory, also called "intangible heritage": customs, traditions, crafts, memories, families … people, who carry in their blood and memory the cultural heritage of our society , and on which the foundations of our future should be laid. That is the meaning expressed in the "Venice Charter" (1964), a worldwide reference document for the design of preservation policies.
Preserve buildings without people (or possible uses), or that people who have inherited that memory are displaced because the cost of restoration and maintenance of the built heritage is so high that it becomes unfeasible is a deformation of the sense of preservation. "Gentrification" is combated with the generation of value, and for this they lack cultural policies that stimulate it.
It is clear that for these buildings to maintain functionality and value, they should be able to intervene partially, to update their infrastructure. This brings us to the second question,
What components contribute to the realization of the preservation and construction of the Intangible Heritage?
I would say that each case is particular, and that, once the role has been clarified, this topic should be clearly exposed to allow its evolution. In some cases it will be the facade, when what you want to preserve is the spirit of the street, in others the volumetry or spaces of historical value, and in a few it will be the entire building. This could lead us to rescue ancestral structures, today covered by republican buildings, or retrieve more recent versions of cataloged buildings.
Strict preservation rules that do not contemplate the use and valuation of buildings condemn them to destruction.
And so we come to the third point:
How do we finance its restoration and guarantee its maintenance?
This point is crucial, since it depends on its sustainability and preservation for future generations.
Today these burdensome actions are loaded on the shoulders of the owners, making their concretion unfeasible. In the world there are several examples of financing from the sale of square meters that can no longer be built due to the fact that they are declared heritage.
In the world there are several examples of financing from the sale of square meters that can no longer be built due to the fact that they are declared heritage, to be used in other real estate developments. The District Municipality of Miraflores was a pioneer in this area, being a case study for the effectiveness of the instrument given the short period of validity. Based on this experience, the Ministry of Housing incorporated into the Regulation of Territorial Conditioning and Sustainable Development (RATDUS D.S. No. 022-2016-HOUSING) the possibility that municipal governments incorporate such instruments in their Urban Development Plans. The Ministry of Culture saw in it an opportunity to finance the recovery of the built heritage, and launched, together with the Ministry of Housing, the pilot project "Height for Culture" (D.S. No. 011-2018-HOUSING). Unfortunately, this project has not yet borne fruit, but it has set an important precedent in the matter.
I believe that these three issues are linked, and until we discuss them in depth, we cannot reverse the decaying process of destruction.
The next celebrations of the Bicentennial of our Republic should provide us with the context of reflection and discussion that this topic deserves.
Aldo G. Facho Dede · Urban architect
Lima · August 2019
Author of the Blog Habitar: Ambiente+Arquitectura+Ciudad and founder of the Red Latinoamericana de Urbanistas
Arquitecto-urbanista, docente-investigador, convencido de que nuestro país necesita desarrollar sus ciudades en base a modelos de planificación urbana estratégicos y adaptativos, que partan desde las personas y el ambiente, y que busquen la multiplicación del bienestar y su equitativa distribución.
Arquitecto-Urbanista por la Universidad Nacional de Ingeniería (UNI-FAUA), título homologado en Argentina. Magister en Desarrollo Sustentable por la Universidad de Lanús (UNLA-FLACAM, Argentina). Estudios de Doctorado en la Universidad Politécnica de Cataluña (España). Experiencia profesional en Urbanismo, Planificación Urbana y Arquitectura, desarrollada en las ciudades de Lima-Perú, La Plata-Argentina y Barcelona-España. Ha participado en el desarrollo de proyectos y consultorías para Perú, Argentina, España, México y Brasil. Ha ganado concursos de arquitectura y diseño urbano en Perú y Argentina. Es docente del área de Urbanismo de la USAT y miembro del Consejo Consultivo de la Escuela de Arquitectura de la UDEP. Es socio de FDARQ Urbanismo + Arquitectura y editor del blog HABITAR