We present the book protests resulted of the action WHAT IS ARCHITECTURE? Gentleman Minister, architecture is…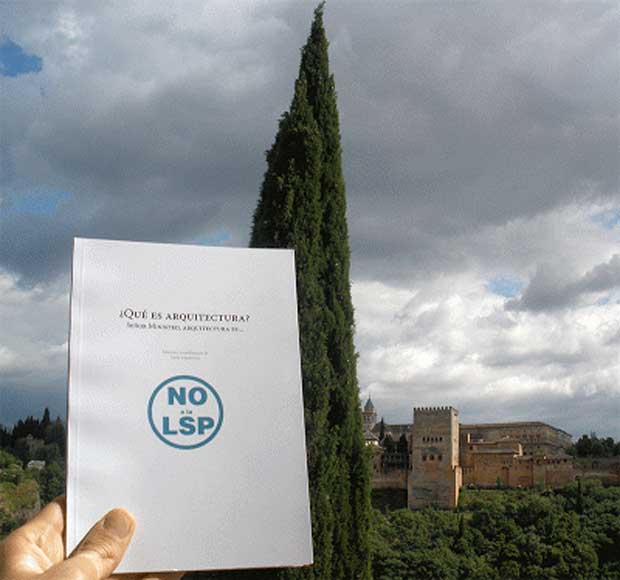 This book protests form splits of the action #NoalaLSP: GENTLEMAN MINISTER, ARCHITECTURE IS…
The action has the following aims:
-Recopilar definitions of architecture
-Compile all these definitions and send them to the minister of Economy and Competitiveness of the Government of Spain so that it study them, recapacite, rectify and withdraw the Preliminary draft of Law of Professional Services.
The action is an open grandstand, that nourishes  of a taking of collective data. Like this at the same time that it develops  the action has  a panoramic vision of what is architecture, in the history but mainly nowadays.
The participation is through the open call in Internet, launch to the network the question:  "What is architecture?" And we request definitions from appointments, personal answers or reflections.
The means used are:
facebook: arquitecturaes
twitter: @EsArquitectura
and-mail: queesarquitectura2@gmail.com
The transcurso of the action can be still in  the following blog: queesarquitectura.blogspot.com.es
This action is a project contrived and coordinated by kauh architects (Vincent Moral Garoffolo & Juan Antonio Sánchez Muñoz). The idea inspired  in the question "what is architecture?" That launched to the public the architect Blanca Espigares Rooney during a talk about the preliminary draft of Law of Professional Services.
The action develops  by means of a call to the participation, all the participants are collaborators of the project and authors of his own work.
The action began the Friday 25 January 2013. This book protests collects the participation of the 75 back days, more the one who produced  during the extra days until the maquetación of this book.
The approaches and opinions expressed in the blog and in this book are of exclusive responsibility of his authors and do not reflect necessarily the criteria that can keep the coordinators of the action.
We want to appreciate especially to all those that have participated and collaborated with the action, also to which have spread it. And to the friends, thank you!
Búsqueda para satisfacer el conocimiento de la actividad arquitectónica y tangentes que se generan. La idea es crear un espacio para divulgar los diversos proyectos en busca de nueva inspiración y de intercambio.