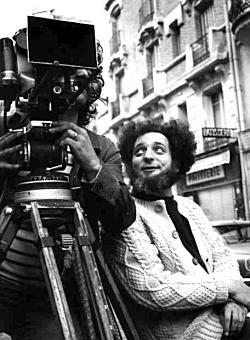 I am not going to discover here Georges Perec and it is very difficult to contribute something new to everything what one has written on this fundamental author. This comment arises because I have just read Attempt of depletion of a parisian place – already I know that it should have read it before that has published in 2012 Gustavo Gili, a publishing house that has been always a reference in books of architecture in Spanish, though it is not necessary to to forget that Perec's text is very architectural. I suppose that already they will know of what it treats, for three days followed by October, 1974, it was sat in diverse places in the Plaza Saint-Sulpice of Paris and in several moments of every day it was annotating what it saw – or said that it saw-, the doves, the persons, the vehicles, the dogs, the clouds, the light… To know more I recommend the marvellous article – as almost all his ones – of Enrique Vila-Matas on this Perec's text.
I confess to them that, in spite of enough times have been in Paris, I was never in this square, for what I could not avoid the temptation of entering Google Maps and look for her, I decided then to cross it with the help of the Street View: Great disappointment, do not do it, – at least less today, tomorrow it is possible that it has changed-, because the square is fenced and the majority of the fronts of the buildings, as well as with the church they are covered by scaffoldings, the only thing that one sees is a part of the ground floors and the cars circulating along the causeways. Slightly very own of these times when in our cities and our life the provisional thing triumphs on peremne.
Curious únco of this tour happens with the front of the Town hall that it changes in three consecutive photos, because it has three cartelones different from three exhibitions celebrated in May, March and October, 2008, another example of how the time modifies to the space, which probably Perec had liked.
Since this one is a blog on cinema and architecture, it is necessary to to mention that in Attempt of depletion of a parisian place there are several cinematographic references: Perec writes that in Saint-Sulpice's square there is a cinema; for her they happen the actress and dramaturga Geneviève Serreau and a Michel Martens, with an umbrella color geranium, which can be the scriptwriter Michel Martens; the author sees a policeman who looks like the actor Michel Lonsdale and on October 19 at two o'clock in the afternoon writes:
«Paul Virilio happens: it is going to see the disgusting Gatsby to the Bonaparte»,
really, the cinema before mentioned was the Bonaparte placed in the number 76 of the homonymous street, it was inaugurated in 1931, it had 430 squares and it was closed in 1987, transforming firstly in a study of television and today it is a shop, The Maison de la Chine; in all that «to the disgusting Gatsby»,, it must refer to The Great Gatsby, Jack Clayton, 1974), released in France on October 16 of this year, and though it is true that the movie is bad enough, I do not believe that so much like «disgusting»,, with regard to Virilio, I am going to annotate to the town planner in that so much I was interested a few years ago, the union of Virilio, Gatsby and the disgust, according to Maurici Pla's note – the translator of the book that before I mentioned – not also, it is an irony on Virilio, but it probably let's never manage to know it with certainty.
What if it is true is that Perec's text, as everything what I have read of him, is completely advisable.
Jorge Gorostiza, architect. Author of the blog Arquitectura+Cine+Ciudad
Santa Cruz de Tenerife, december 2012
Doctor arquitecto, proyecta y construye edificios y desarrolla trabajos de urbanismo. Desde 1990, publica numerosos artículos sobre cine y arquitectura en medios de su localidad, revistas como Nosferatu, Nickleodeon, Academia, Lateral, Cahiers du Cinema… y en varios volúmenes colectivos. Entre el 2000 y el 2005 dirige la Filmoteca Canaria. Imparte conferencias sobre arquitectura y cine en instituciones como el CAAM en Gran Canaria, la UIMP, el CENDEAC en Murcia, INCUNA en Gijón, Fundación Telefónica, la ETS de Arquitectura y el CCCB de Barcelona, las ETS de Arquitectura de La Coruña, Sevilla, Valencia y SEU madrileña, La Ciudad de la Luz en Alicante, la UNED en Pamplona, en varios colegios de arquitectos, así como en las universidades del País Vasco, Gerona, Valladolid, Málaga, Granada, SEK en Segovia y CEES de Madrid. Jurado en varios festivales cinematográficos, como los de Alcalá de Henares (2001), San Sebastián (2002), Sitges (2003), Las Palmas (2005) y Documentamadrid (2005), y comisario de las exposiciones Constructores de quimeras. (Centro Conde Duque, Madrid, 1999) y La arquitectura de los sueños (Capilla del Oidor, Alcalá de Henares, 2001).
He publicado bastantes libros y muchos artículos, he impartido conferencias, he sido comisario de exposiciones y jurado en muchísmos festivales. Si quieren saber más no duden en consultar mi blog ARQUITECTURA + CINE + CIUDAD.