:: 20 images x 20 seconds :: 6 minutes + 40 seconds :: Around 12-15 speakers expose his ideas, projects, designs through 20 slides of 20 second each one. The participants are students, professional, professors, employers… of different disciplines.
Pecha Kucha Vigo vol. 2 to the 20:30 in the café of the FRAME with the following speakers: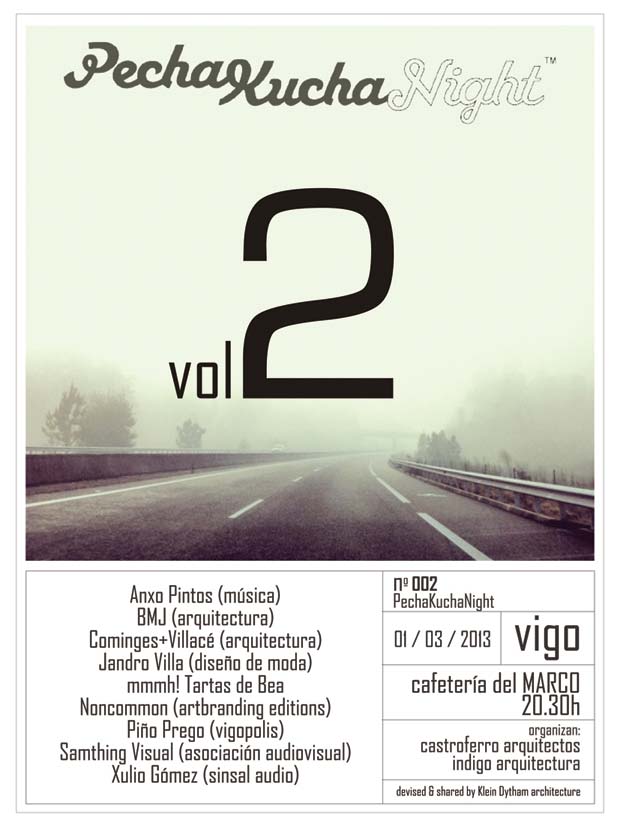 – Anxo Pintos (Berrogüeto)
– BMJ arquitectos
– Cominges+Villacé arquitectos
– Jandro Villa (Fashionable design)
– mmmh! Tartas de Bea
– Noncommon (artbranding editions)
– Piño Prego (Vigopolis)
– Samthing Visual
– Xulio Gómez (Sinsal audio)
Pecha Kucha Vigo. Volumen 2
Friday, march, 1 at 20:30
MUSEO MARCO Cafe
Vigo, Galicia, Spain
Organize: Castroferro Arquitectos and Indigo Arquitectura
Búsqueda para satisfacer el conocimiento de la actividad arquitectónica y tangentes que se generan. La idea es crear un espacio para divulgar los diversos proyectos en busca de nueva inspiración y de intercambio.